Building a patio is a major addition to your home. While about 65% of newly constructed homes in the South included some type of patio in 2017 (the most recent year for which statistics are available), that also means that 35% of homes did not. So if you are living in one of those homes, or the patio installed by the builder just doesn't live up to your standards, then you may be looking for patio ideas.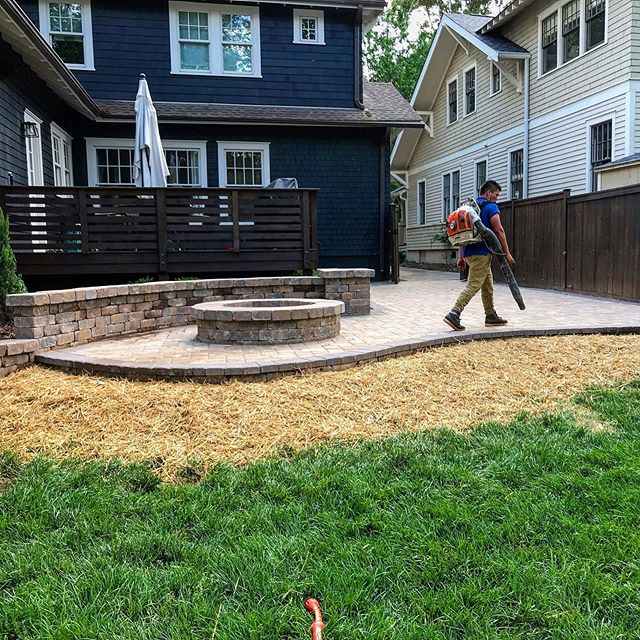 Patio with Fire Pit Design Ideas
One of the most common additions to a patio area these days is a fire pit. Fire pits add warmth which allows you to enjoy your outdoor spaces for a longer part of the year. So on a chilly December day in Fort Mill, you might be fine sitting outside in the sun and by the warmth of a fire. The same is true in the evening in the fall and spring, when it isn't quite comfortable enough to sit and enjoy the stillness around you after dark.
Patios with built in fire pits are ideal, but you can also add a portable fire pit if you've already got a patio area big enough. Fire pits are generally three to five feet across and you'll need some space for seating. If you are designing a new patio with a fire pit area, the overall design depends upon your yard and where you are putting the fire pit.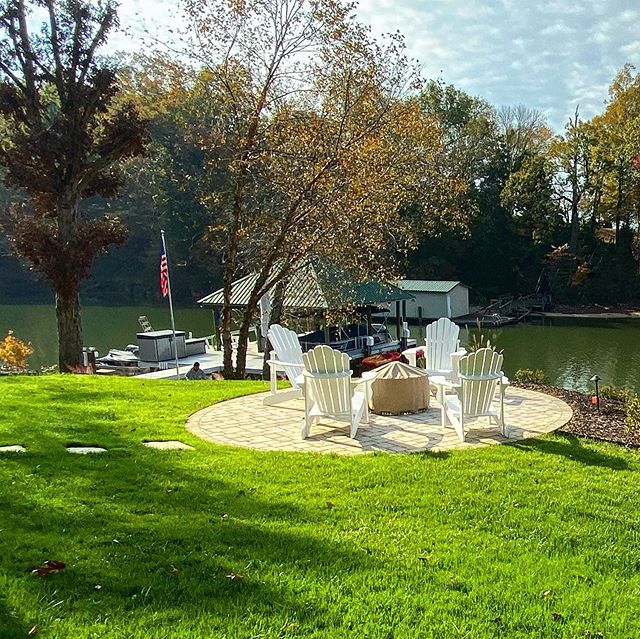 If you have a larger yard, one idea is to put a separate seating area for the fire pit, away from the house a little way. If you have a scenic view, such as over Lake Wylie, this is a great addition, as you can use it as an entertaining space as well in the summer, when having the fire roaring isn't ideal. A detached fire pit area like this could be round or square. You just have to leave around 6 feet outside the fire pit for a seating and walking area.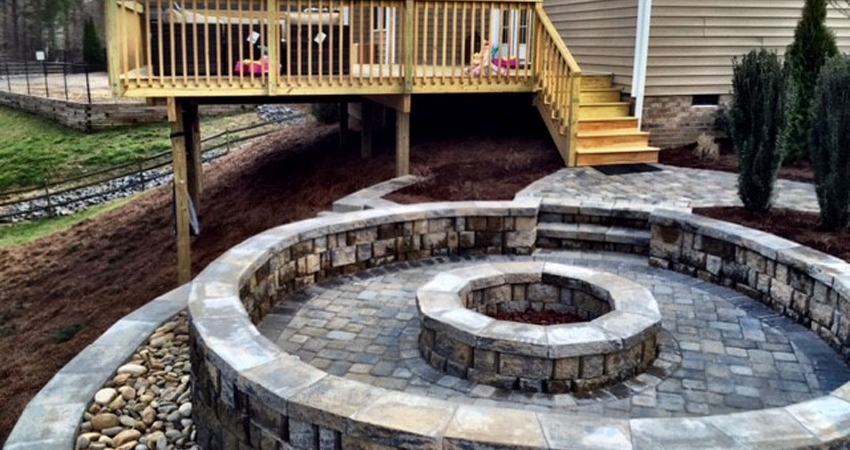 Another great idea for incorporating a fire pit into your patio design is to include a seating wall. The seating wall can help separate the fire pit area from other parts of the yard for safety reasons. It also reduces the amount of space you need around the fire pit, because the wall doesn't take up as much room as a chair. This is important when the fire pit is built into a patio along the back of your house because for safety reasons, a wood fire pit should be at least 10 feet from your home. We often build seating walls that only border a fire pit for a third or half of the area, which also allows for some chairs on the other side.
An alternative to a fire pit is to add an outdoor fireplace. While larger than a fire pit, outdoor fireplaces create more of a living room effect around them. In some cases they can be just the statement that your outdoor area needs.
Patio Ideas with a Pool or Hot Tub
Pavers go well with many other backyard living features. Adding a patio area around your pool to replace or extend your pool deck is a common solution. But you can get more imaginative than that as well. For example, a patio can flow off the side of the pool deck into the yard instead of being attached to the house.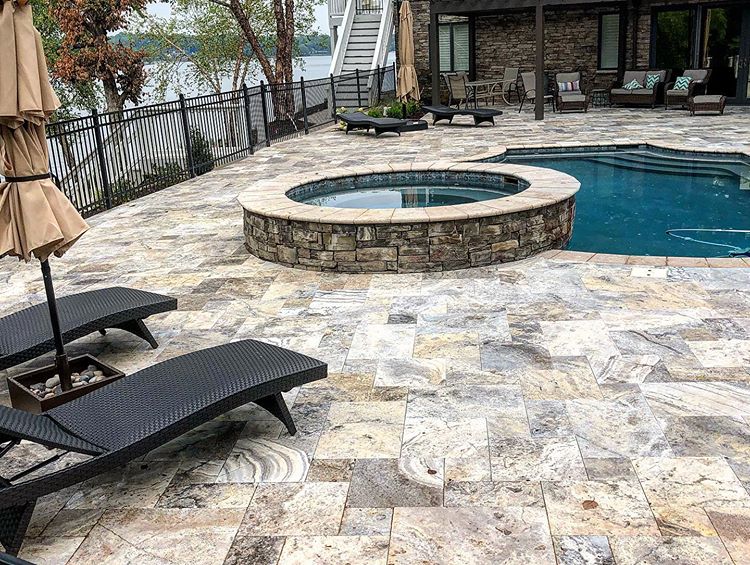 Hot tubs are frequently asked about as well. Stand alone hot tubs weigh an enormous amount, approximately 3 tons when filled with water. So this is no light undertaking. We install pavers as driveway surfaces and hot tubs weigh about the same as a larger Ford F-250 pickup truck. So you can build a patio area that a hot tub can sit on out of pavers and have the patio flow around it.
Another option is to create a patio around a concrete slab that the hot tub fits on. Pavers can come up to the edge of the slab and incorporate the hot tub area.
If you have an in ground hot tub that is part of a pool system, then adding a patio area around it is similar to adding pavers around a pool as a pool deck.
One of the most important parts in incorporating a hot tub into a patio design is to make sure you locate it in a good place. You want the hot tub to be relaxing and private, so adding some shrubs, privacy screen, etc into your design is important.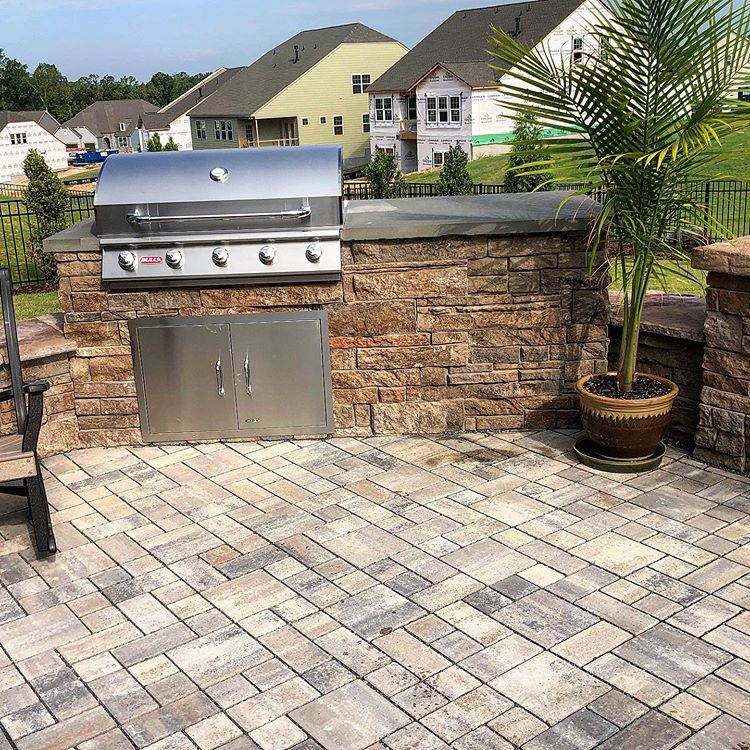 Patio Ideas with a Grill
There are many ways to include an outdoor cooking space into your patio design. Most of the time this includes a grill, but it can also include a refrigerator, sink and more.
One design idea is to include the grill into a wall on the outside of your patio. This keeps the grill away from the house and seating areas, while providing a natural separation for your patio from the rest of the yard.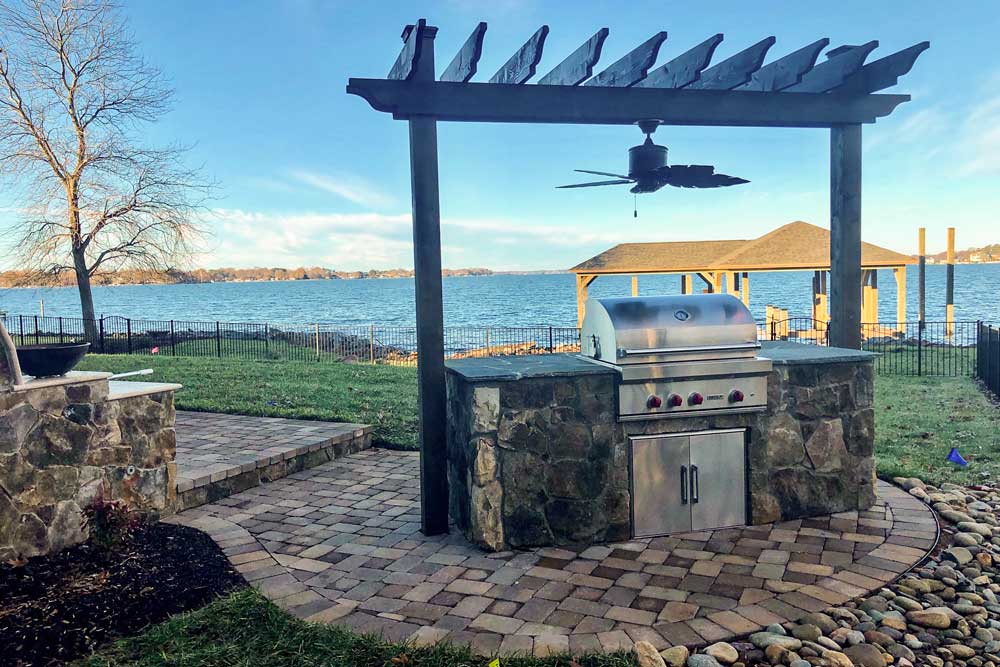 Another option is to create a grill island. This is almost like a separate patio area just for the grill or outdoor kitchen. This keeps the food preparation area in a different place than the entertaining area, which can be helpful in keeping smoke away and keeping children away from the hot grill.
Another idea is to create a bar and incorporate the grill into a portion of the bar. This allows the chef a chance to have conversations and stay involved with guests while still cooking the food.
Patio Ideas without grass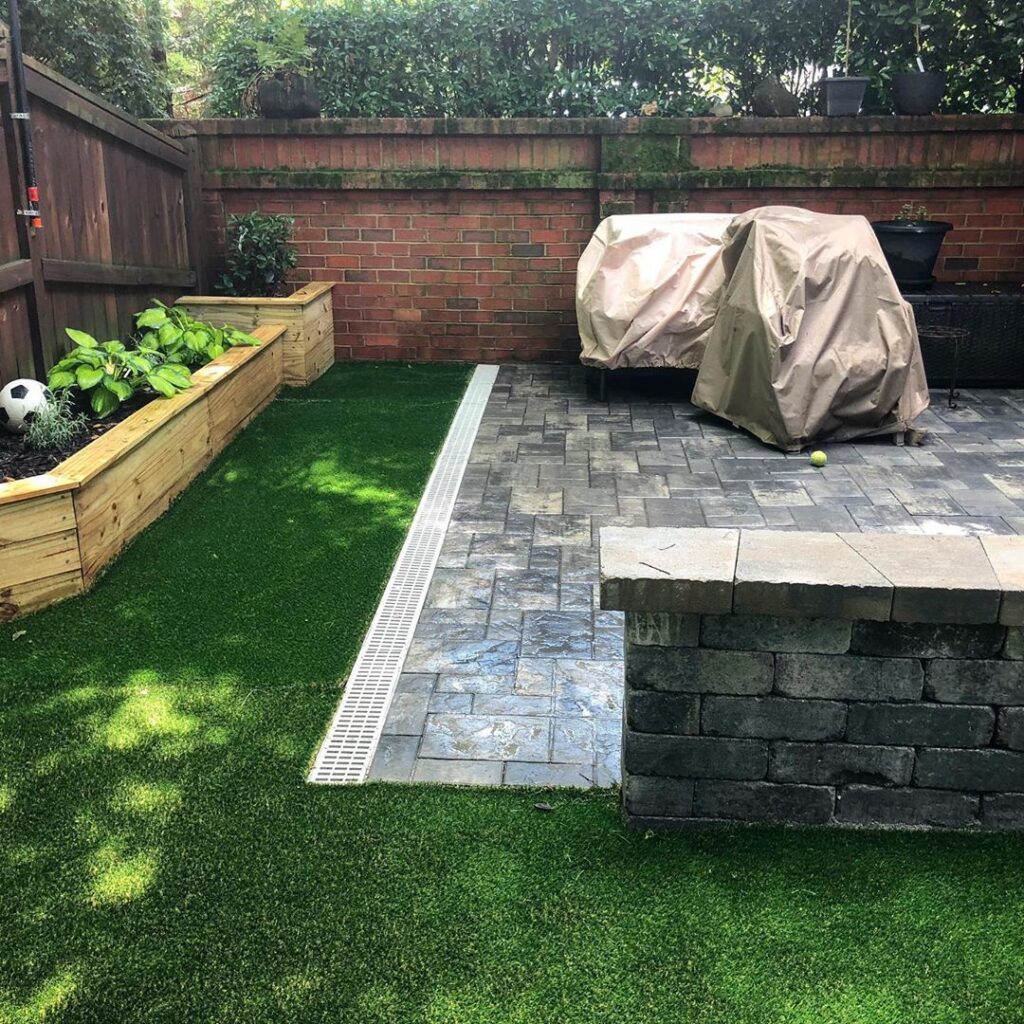 While most people want a yard with grass in their outdoor space, there are some that prefer to avoid the maintenance that grass brings with it. Building a patio and not having a green space around it is an interesting challenge.
One idea is to make the yard mostly out of hardscape, including walkways, stairs, patio area, etc. While we have built a very large yard in this manner, it is more common in smaller yards.
Another option is to include planting beds and some artificial grass that doesn't need the maintenance a growing lawn requires.
Patio Ideas for Small Yards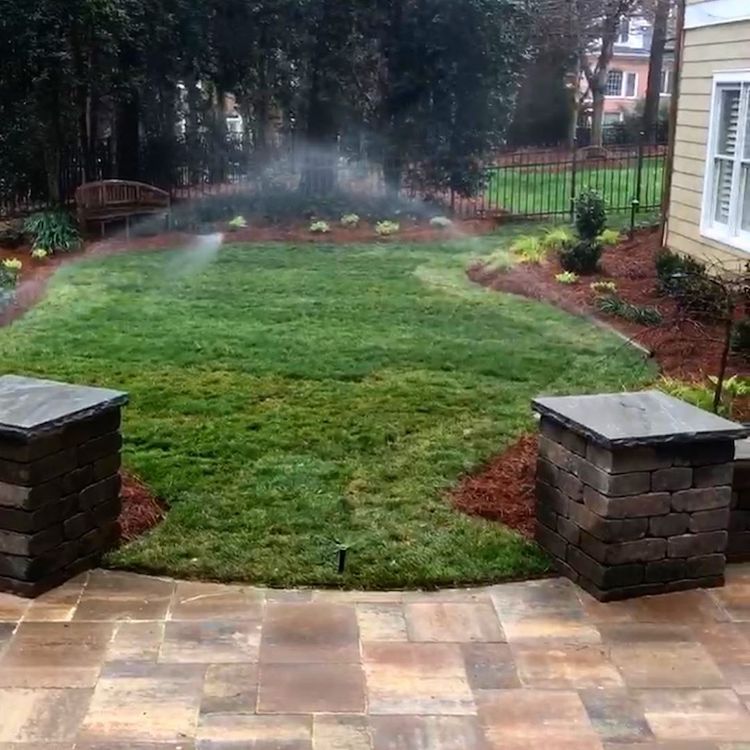 Patios in small yards are just like patios in larger yards. You have to have a certain amount of space to be able to place a few chairs or a fire pit or a dining table. The trick is determining how much of the yard you are willing to take up with the patio. We've designed patios for courtyards and small lots. Each one is different.
We suggest you make a list of the most important features you want to include, then work with a designer who will maximize what you can get in the space available.
Patio Ideas on a Budget
There are a lot of ways to create a nice backyard without spending top dollar. Material choices and size are usually the biggest determining factor of how much a patio will cost. Even the lower end pavers that we install have a great look and finish. They will provide a very nice looking patio. The larger the patio and more complex the shape, the more expensive it will be in material and labor costs. There is nothing wrong with a square or rectangular patio that is large enough for a few chairs and a table, a fire pit and some chairs or even just a nice seating area.
Other Things to Consider
The shape of your house, existing outdoor structures, drainage and other factors all influence what the best patio solution is in any situation. The company you hire to build your patio should be able to help you with some type of a plan so that the patio fits your yard and your needs.