With average temperatures in the high 80s and nighttime temperatures that rarely dip much below 70 all summer, the Charlotte area is a great place for a pool.  Over the last few years, pool construction has increased in the metro area.  A survey by FIXR showed that swimming pools are the 4th most popular backyard amenity for 2022.  If you are looking at a backyard makeover that includes a pool, you'll also need to think about what surrounds the pool.
Your choice of materials for a pool deck is important for the long-term enjoyment of the pool. You don't want the deck to be too hot, get too slippery or be a cleaning problem. If you are installing an above ground pool, adding a wood deck area around the pool is a fairly common way to provide easy access. But, our hardscape projects are focused on below ground pools, which allow for a few other options.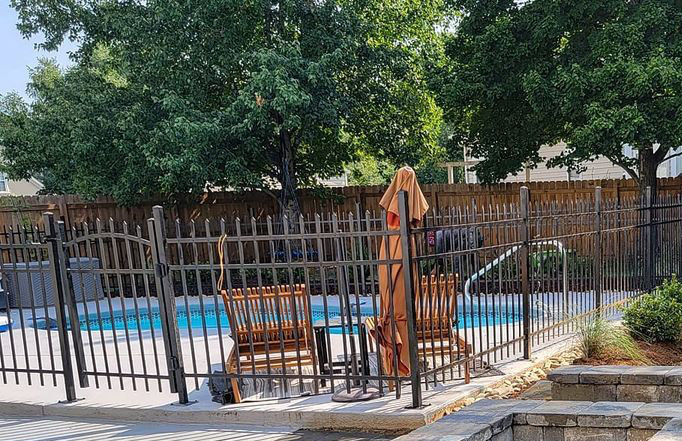 Poured concrete is a standard pool surround and you'll find it around most neighborhood pools and a lot of backyard pools. It is durable and has been a standard in pool decks for decades.
When we are hired to install a pool deck, it's usually because the homeowners want something a little nicer looking than standard concrete. There are two real options, stone, which is a premium look and feel, or concrete pavers.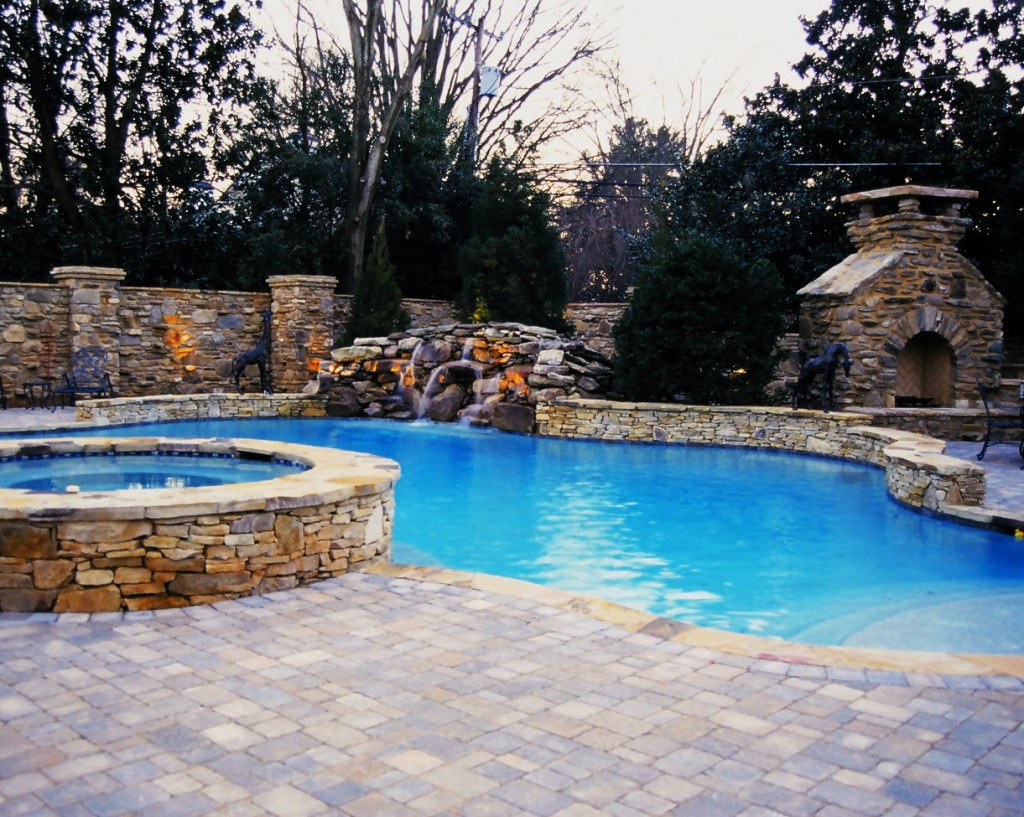 Concrete pavers provide a happy medium between price and looks for a pool deck. Since they are made of concrete, they also bring with them all the benefits of the classic poured concrete pool deck, including a less slippery surface than some stones. Pavers are generally less likely to crack than other options and easier to fix if there is a problem. Since there are many different paver types available, you can create many different looks, even some that mimic stone, but at lower prices.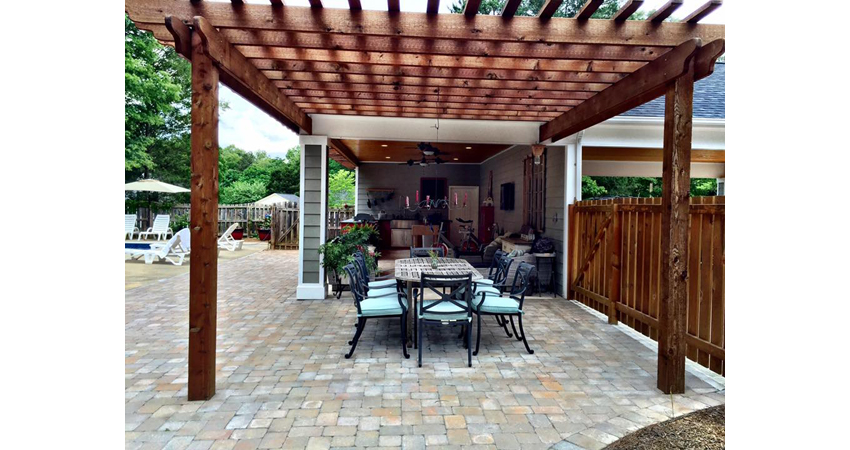 If you want to step up to the higher end of pool decks, then travertine is a great choice for natural stone. Travertine tiles act a lot like pavers upon installation because they are uniformly cut to size. Travertine is slip resistant and heat resistant, two very important considerations when walking on a wet surface in the hot sun. Travertine does absorb moisture, which can cause it to get a stained look and also makes it susceptible to cracking. Fortunately, sealing the tiles every three to five years will help prevent any discoloration and we rarely get much extremely cold weather here in the Charlotte area, so cracking from freezes is less of a concern than further north.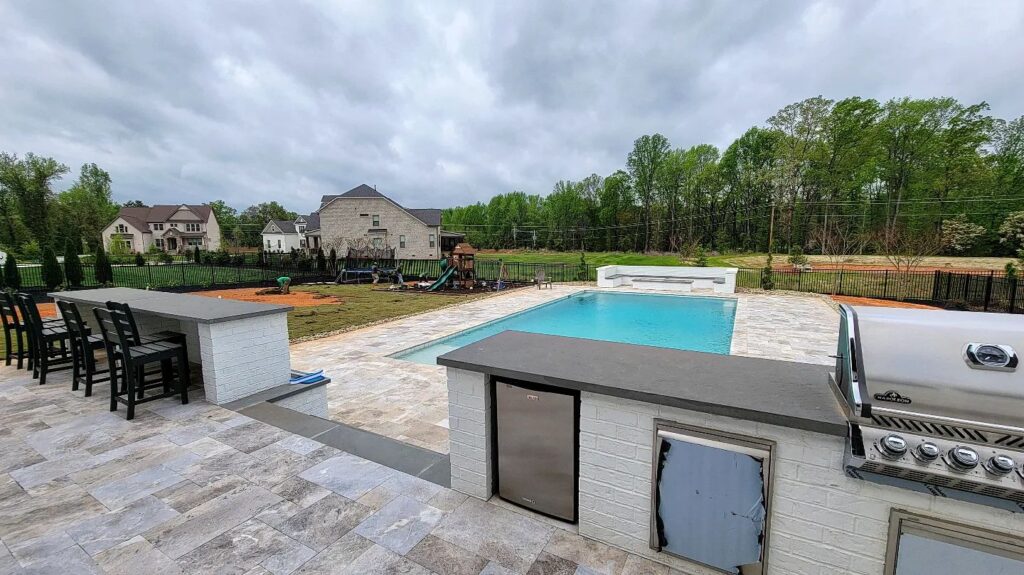 Using either pavers or travertine for pool decks also allows you to make a seamless surface that also serves as a patio. Many pools, for example, are located just off a patio area in the back of the house. If you use one material for the patio and pool deck, it creates better aesthetics.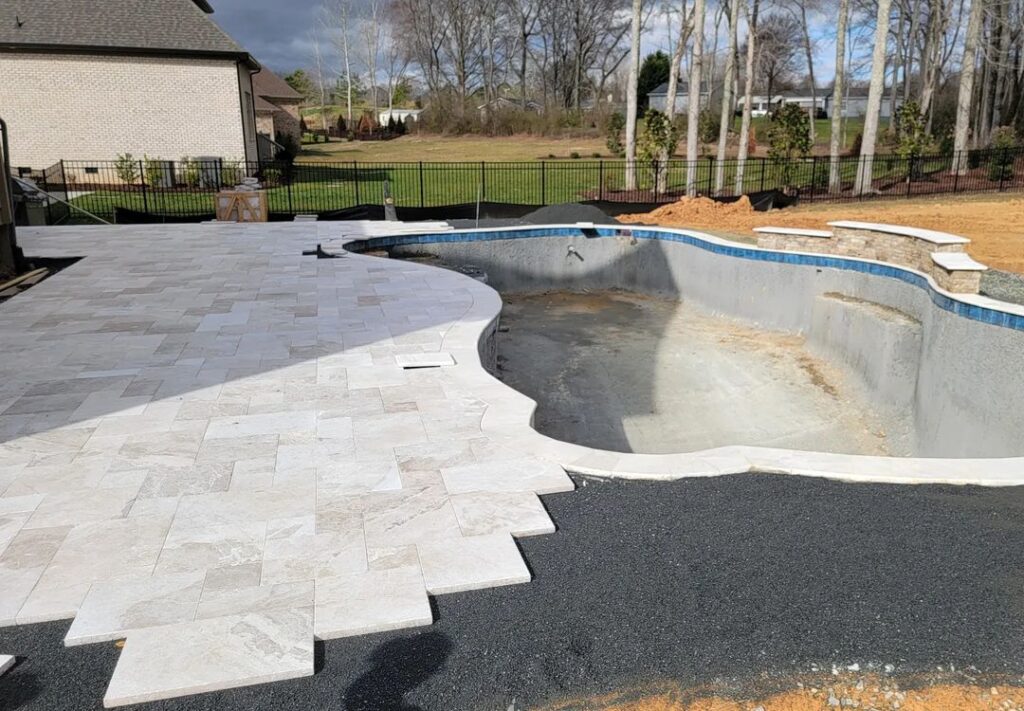 If you have an existing pool that needs and upgraded surround or are planning to have a new pool installed, contact us to find out what your options for an upgraded pool deck are.