If your Charlotte area home has a fairly flat yard, then you are lucky. They call this area the Piedmont for a reason. We're not as hilly as the mountains and foothills, but there are still plenty of slopes in the Charlotte metro area. After all, that's how "Uptown" got its name…from sitting on top of a hill. Urbanization tends to flatten out central business districts, but residential developers usually only flatten the building pads on their lots. There's an advantage to that if you are interested in having a walkout basement. Otherwise, you are probably searching for ideas of how to deal with landscaping a sloped yard. Here is some inspiration for what your sloped yard could be, based on some of the projects we've designed and built in the past.
The Classic Sloped Backyard – Creating a Walking Path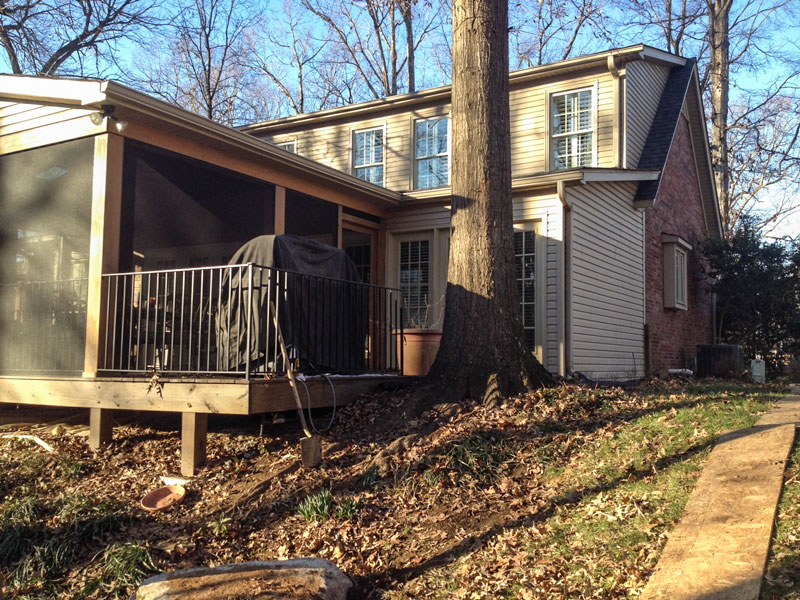 A common feature in many homes, especially those near Lake Wylie, is a fairly step hill in the backyard. In this case, there was a flatter space at the bottom of the hill where the homeowners had installed a pond, but there was not a good path or steps to safely walk down. To keep a natural look that fit in with the rest of the yard, we installed large stone slab steps into the hillside. This allowed for easy access to the pond from a screened porch. We added a sitting area outside of the screened porch, with a bench and a bird feeder to provide more space to enjoy the backyard.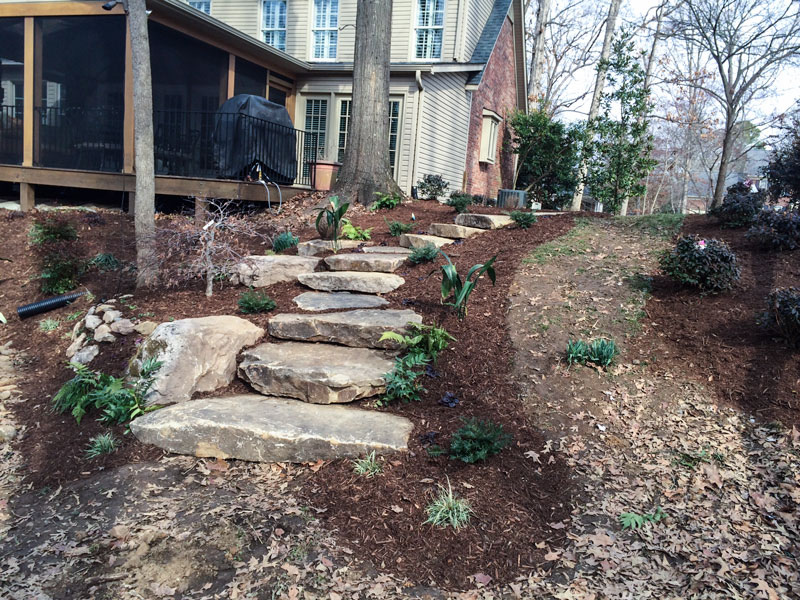 Cut and Fill to Create More Flat Yard Space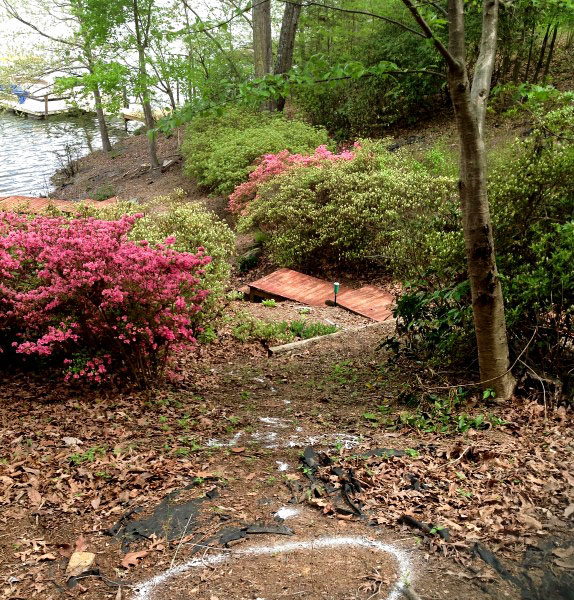 Like many properties along a lake, this one was severely sloped. Using a grading technique called "Cut and Fill," we were able to cut into the hill and move the dirt forward to create a level area for the patio and fire pit. To prevent erosion and maintain a natural look to this new area, we brought in natural boulders from Tennessee and Virginia to create a natural looking outcropping at the top of the flagstone patio. On the house side of the patio, we designed a seat wall to provide a resting area looking out across the fire pit and the lake below. From the seat wall, stepping stones lead up to the house. Boulder steps down to the water help maintain the natural rocky outcropping look while providing seamless access to the lake shore below the patio area.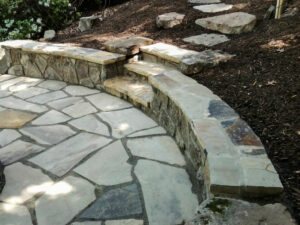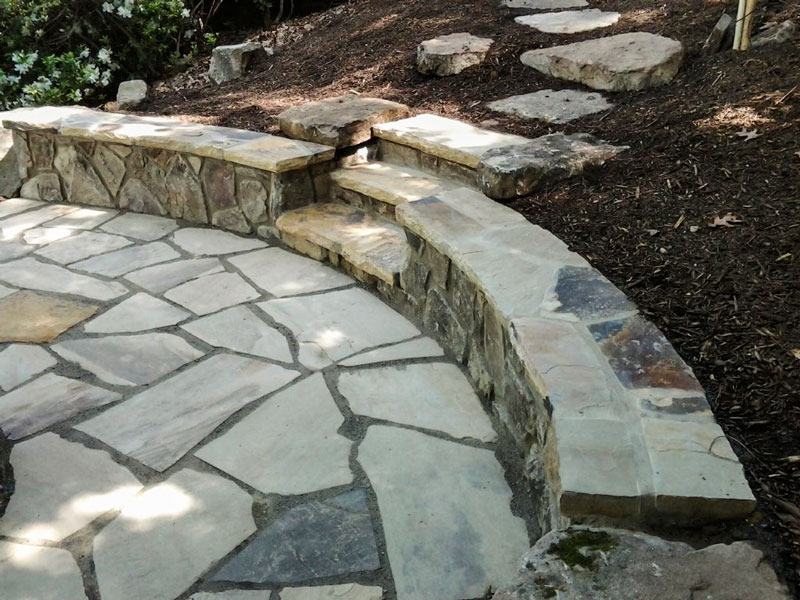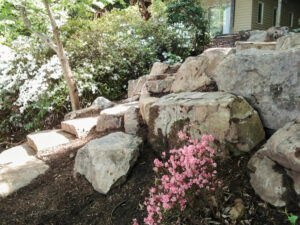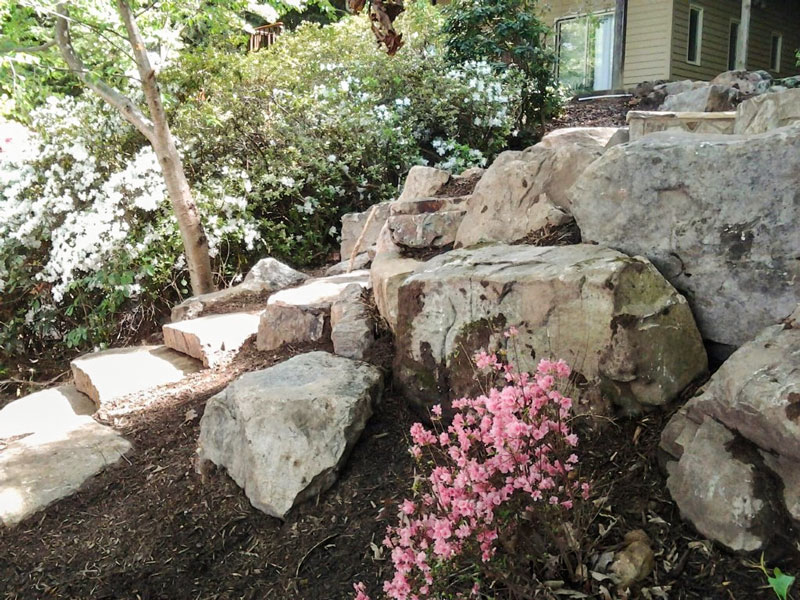 Tackling a Sloped Front Yard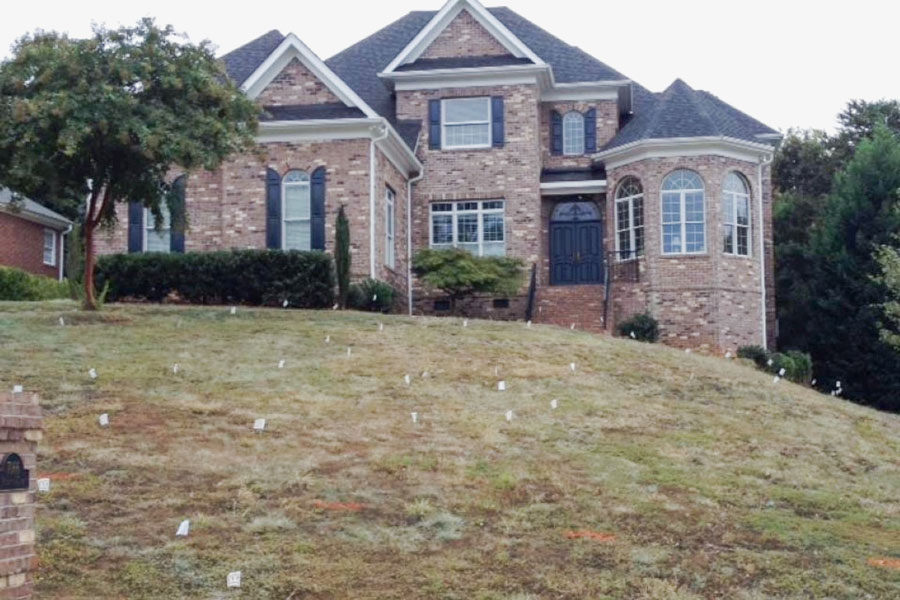 Having a significant slope to your front yard isn't all that unusual. Hopefully your slope goes down from the house to the street and not the other way around. One example from a project completed a few years ago is this house set high on a hill that created drainage and erosion problems. That brings up the first thing to think about when landscaping for slopes. Drainage. When it rains, the water is going to go somewhere and it is far better to channel it to where you want it to go than just let it run. So a major piece of landscape design for any slope is planning to deal with water. In this case, we  positioned large beds throughout the lawn, so there are sweeps of grass, but the beds catch all the water and channel it out instead of it washing through the beds. The beds also reduce the amount of mowing needed, which can be a real chore if you have to push a mower up a hill. We also put in drains to collect the water and piped everything down to the street.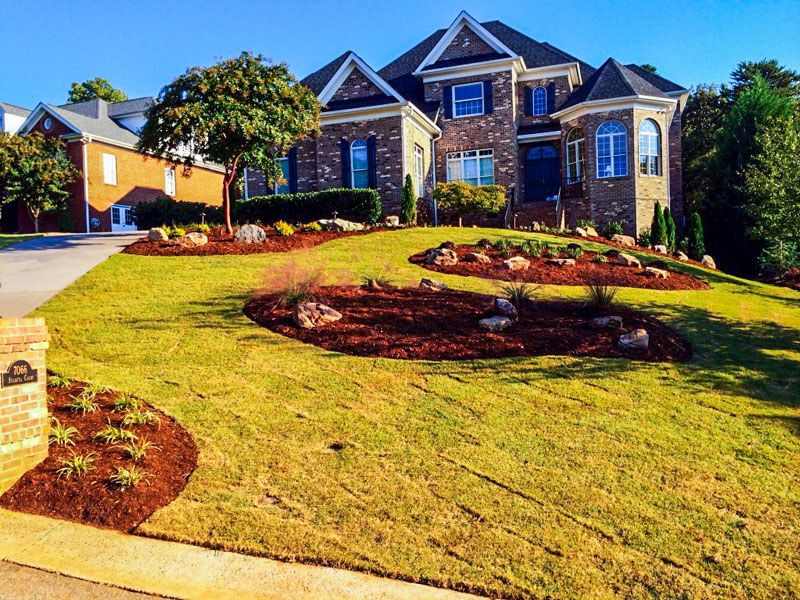 Using a Deck to Increase Outdoor Space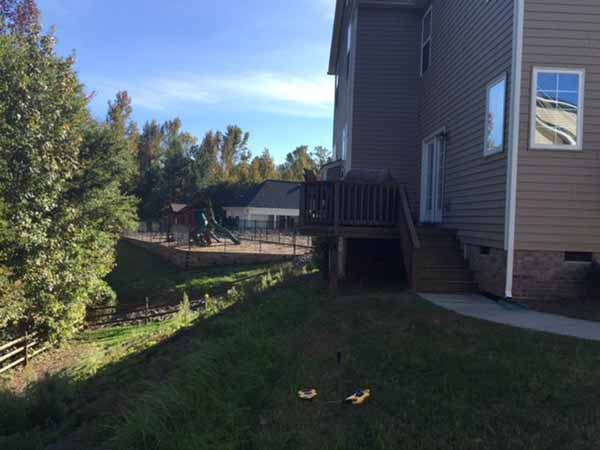 This home in Fort Mill is yet another example of a backyard being a hill with almost no flat space to enjoy the outdoors. In this case, there was some relatively flat ground in the larger side yard, which allowed us to combine two elements and create multiple outdoor living spaces. The home had a very small deck on the back originally, but it was not really big enough for entertaining. We replaced the small deck with a much larger one. The extreme slope in this yard made it much better to build a large deck than to terrace the backyard and add fill dirt to create a level spot. We were able to create the large fire pit by building a retaining wall just a few steps from the deck.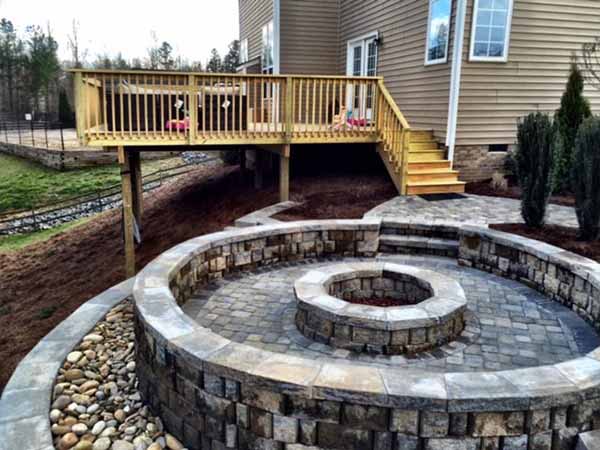 Building Terraces to Create Flat Space
Depending on the specific yard, a good solution can be to create a terrace or multiple ones. This is done by building retention walls and filling in the desired flat space with dirt. Retention walls can be used to create space for a patio, green space or a garden. In this particular case, we used retention walls to create a multi-terrace effect in this large sloping backyard. Drainage is always key when creating terraces, so that they are safe and last a long time.
Creative Solutions Are Needed to Handle Slopes
Creating landscaping plans to handle slopes requires experience and creativity. What might work well in one yard, may not be the right solution in your yard. The severity of the slope, drainage considerations homeowners association and building codes, along with your personal taste will all factor in to what can be accomplished when tackling a sloped yard. If you are looking for solutions for your sloped yard in the Charlotte metro area, please contact us for a consultation which will get us started with creating a landscaping plan and building an outdoor living space you can enjoy for years.