There is something magical about fire that makes us want to include it in our outdoor spaces. Fire features, like firepits, fire tables or outdoor fireplaces generally top the list of most wanted features in a backyard living space. For 2022, fire features rank second in House and Home's article on what we want in our yards. But why fire?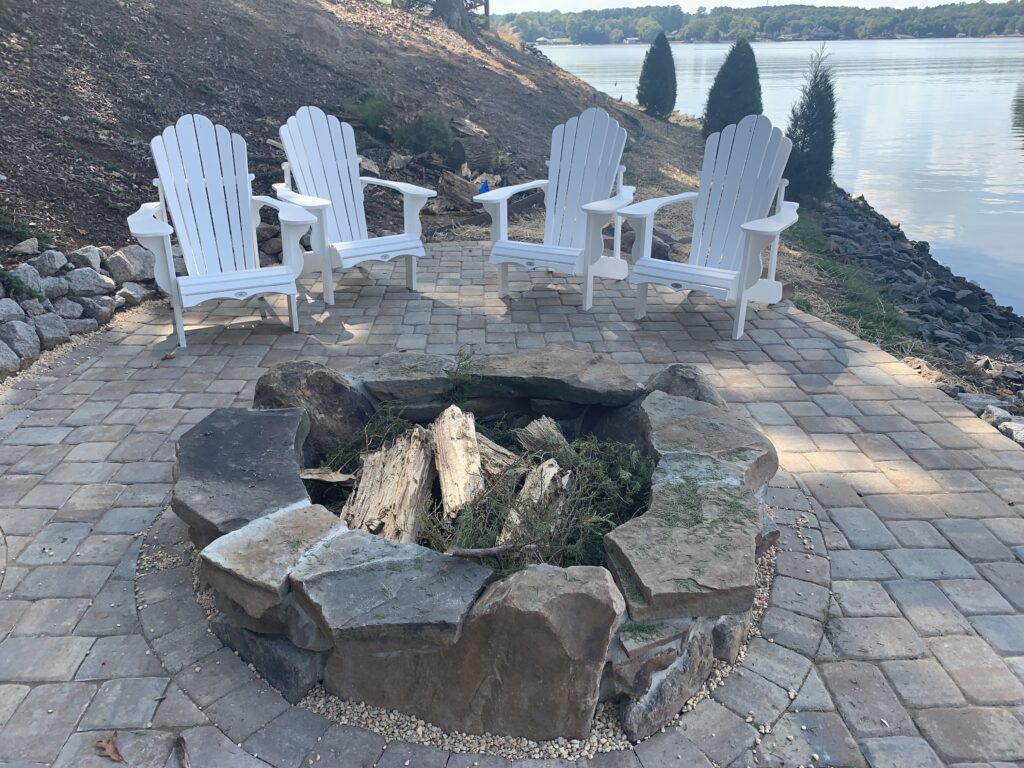 There are many theories on why we are interested in fire. One researcher argues that an interest in fire is based on a primal instinct to understand and control fire, since fire was widely used in the past for cooking and heat. Other theories revolve around the psychological and social aspects of the fire experience. Here, we'll explore a little more about why you might want to put a fire feature in your yard based on the scientific experiments and studies about why people are drawn to fire.
Fire Features Help You Relax
In historical context, fire represented protection. Many wild animals are scared by fire, an instinct to help keep them safe from the danger it could bring them if there was a forest or brush fire. For humans, the ability to control fire has made it a useful deterrent and protection from animals. Just like being at home makes you feel like you can relax, having some protection from animals at night used to allow people to relax and sleep in the wild. Scientifically though, the relaxation might be built into our DNA. A 2014 study at the University of Alabama concluded that watching the flames and hearing the crackling sounds of the fire actually reduced the blood pressure of the adults who were involved in the study. Interestingly, just seeing the flames didn't produce the same effect without the fire sounds. Researchers believe the multisensory experience of seeing the flames and hearing the crackling of the fire helps to focus the mind on the fire and let other concerns drift away, bringing scientifically proven relaxation.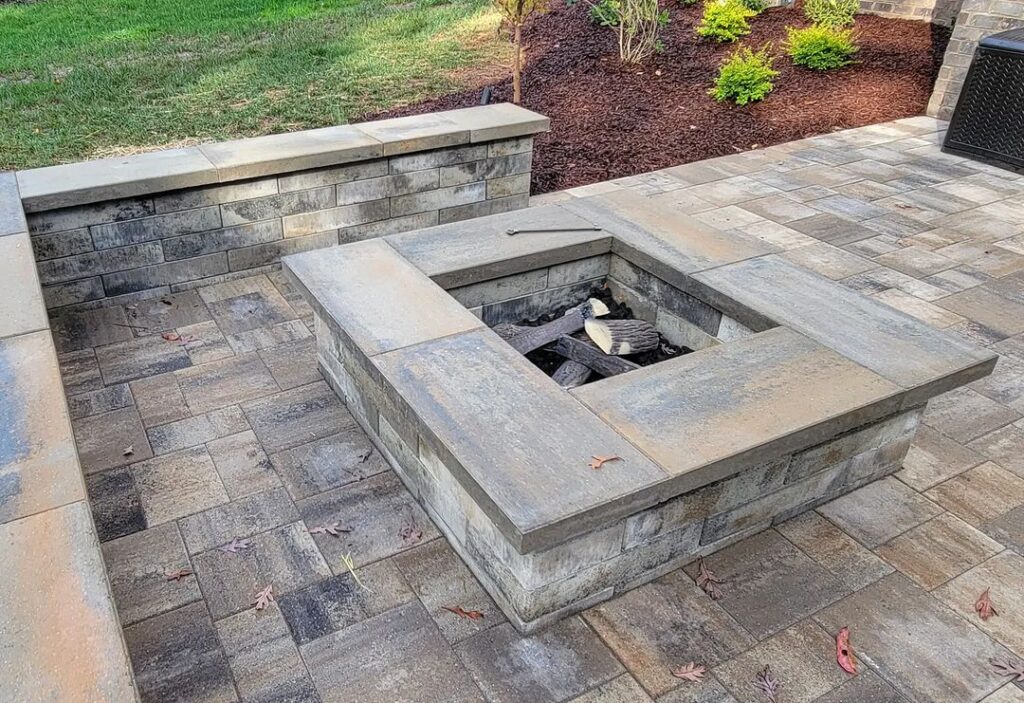 Fire Keeps You Warm
It doesn't take a researcher to come to the conclusion that fire helps keep you warm. While that isn't a very good reason to hang around the fire pit during a Carolina summer night when temperatures rarely get below 65 degrees, it is useful at other times of the year. Fire features, especially wood burning fire pits, can provide a lot of heat, up to 1,000 degrees right at the flame. This heat coming off a fire pit or other fire feature is thermal radiation, which is infrared waves and visible light. You won't feel it from behind and it isn't intense enough (unlike the sun) to travel long distances. But as long as you are within 4-6 feet of the fire you'll feel some warmth. Hotter fires, which you'll get with a wood-burning fire pit or fireplace, will provide more heat. That's nice to have in the early spring, on fall nights or even in the winter in the Charlotte area. A little heat will make spending some extra time outdoors in your yard that much more enjoyable.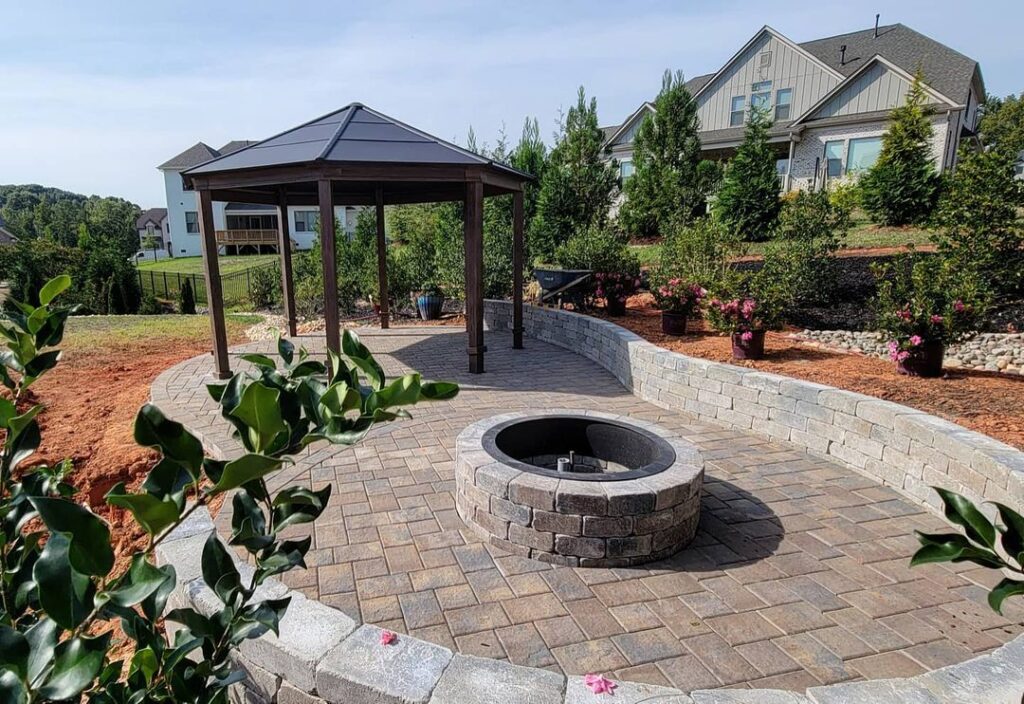 Fire Features for Communal Cooking
Cooking with fire is the original way to cook. Now, of course, we have ovens, microwaves, air fryers, and grills. All these alternative cooking opportunities make cooking over an open fire a lot less common, unless you are camping. However, there is no need to go anywhere to enjoy the camping experience when you have a wood-fueled fire pit or outdoor fireplace. Everyone can do their own cooking and prepare their meal the way they like, which saves worry for the host and adds a social element to dinner preparation.
Probably, the easiest and most common food to roast over an open fire is a hot dog. In fact, cooking a hot dog over a fire is the second most preferred method in the U.S. Then you can cap the evening off with some roasted marshmallows (or even s'mores). After all, the marshmallow roast is really the only way most people cook marshmallows to eat as a treat. And, we've been doing that for around 125 years, dating back to beach roasts on the Jersey shore. You can actually cook hot dogs and marshmallows on a gas-fueled fire pit, but you have to be a lot more careful about dripping juices and sticky marshmallow onto the burners.
Another option for fire pit cooking are "pies." Cast iron pie irons (commonly called Tonka pie makers) allow you to cook up all types of foods inside a bread crust. From hot ham and cheese sandwiches to apple filled pies, the sky is the limit to your creativity with this type of fire pit cooking.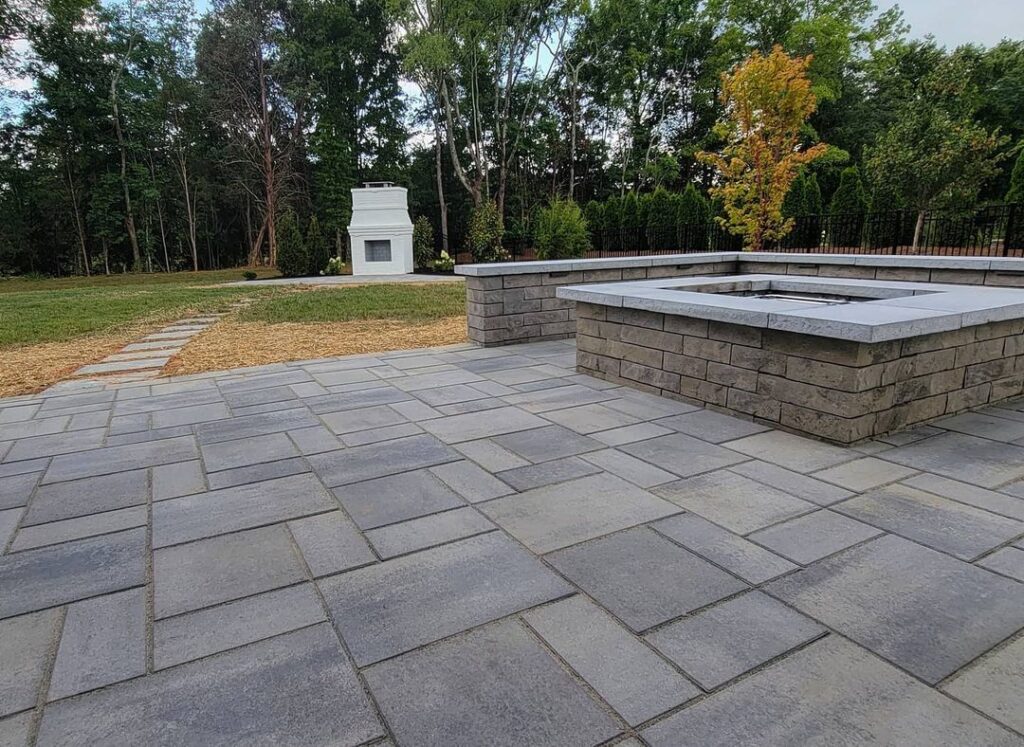 Fire Makes us More Social
That same University of Alabama study that showed we relax more around fire features, also found that people are more social around fires. Aside from that, there's plenty of anecdotal evidence that people are more likely to open up and have discussions in comfortable situations like sitting around a fire. There is a long history of people telling stories (true or not) around campfires, and the fire pit provides a similar atmosphere for long and interesting conversations.
Ready to Build a Fire Feature?
Adding a fire feature to your backyard is simple to do if you are in the Charlotte area. Just get in touch with us and we'll help you plan out the spacing, keeping an eye on safety, while maximizing your ability to sit around the fire feature as much of the year as possible.