Do you want some backyard landscaping ideas to transform your yard into a place you want to spend time? There are many different backyard ideas including ones for patios, green space, play areas for kids or even a nice flower garden. While hiring a company to design and build a landscape in your yard can help you nail down a plan that will work, landscaping companies like ours don't tell you what is important to you. So here are some of the high level things that research and our own experience tell us are important to consider when planning a backyard space that you will enjoy.
Backyard Ideas for Dogs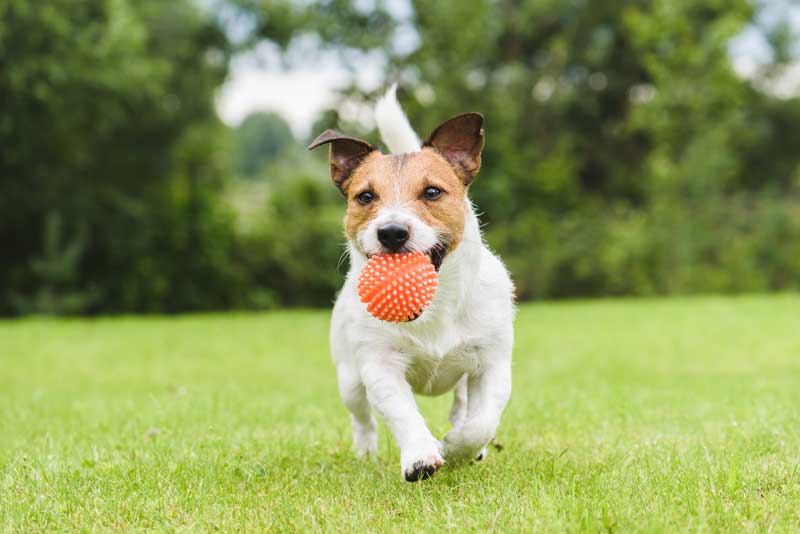 Each year the American Society of Landscape Architects does a survey to find the leading landscape design trends across the country and 66% of all landscape plans include some type of recreation area for dogs. Interestingly enough, that is almost double the percentage of households the American Veterinary Medical Association estimates own a dog. So dog spaces are clearly important considerations when designing and building a landscape.
Charlotte has some great opportunities for dog owners, but it still doesn't rank very high on most surveys of dog friendly cities, so it is important to create some space in your own backyard for your dog(s) to enjoy. Most planning for dogs isn't too complex. You mostly need to make sure they have a safe place to run around and enjoy the outdoors. Here are a few of the most common ideas for dogs that we see included in backyards.
A fence around your yard to keep your dog in and allow it to run freely
Open grass spaces. You don't want to fill up your entire yard with plants and hardscape.
Shady areas from trees or even a dog house if your pet will stay outside for a long time
Backyard Landscaping Ideas for Kids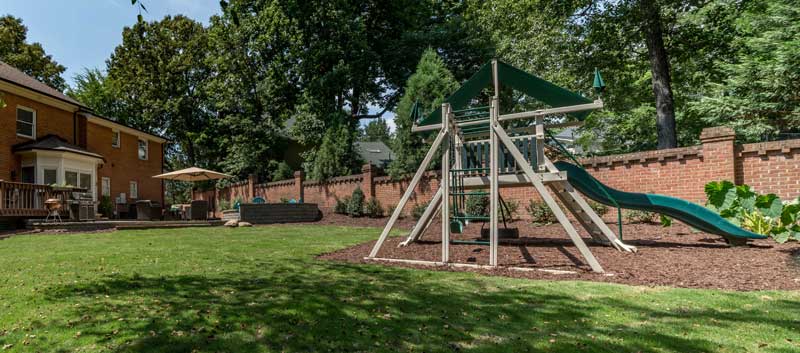 Just like dogs like to get outside and work out some energy, so do kids. More than half of landscaping plans include some type of recreation area for kids. For younger kids, playsets are common. While playsets do take up a good amount of space, many kids also use them a lot until about age 10. After that, you can always rework your outdoor space to include some opportunities for bigger kids to enjoy the outdoors. Besides playsets, most of the other backyard ideas for kids are pretty well know.
Playhouses
Swing Sets
Sand Boxes
Fences to keep the kids safe
Landscape plants to screen your yard from other areas for privacy
Trampolines
Treehouses
Grassy areas where kids can play all types of games and sports
Fun Backyard Ideas for Older Kids and Adults
Small kids and dogs shouldn't have all the fun. Your backyard can certainly be more than just an entertaining space. Space permitting, it can be a great recreation space too.
Bocce Courts are growing in popularity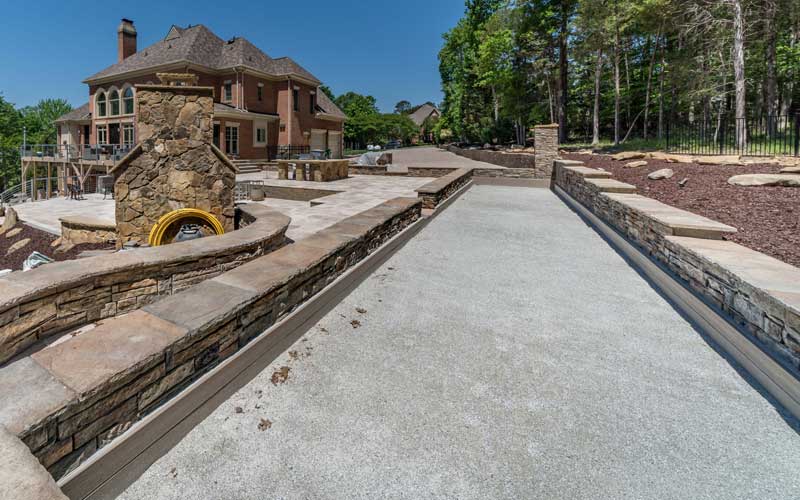 The United States Bocce Federation says there are over 25 million bocce enthusiasts in the United States. Over the past several years, Bocce courts have popped up at bars and social clubs in the Charlotte area. You can also find 5 courts at Nevins Community Park. But more people are looking to play in their own backyard. Bocce courts do take up some space, but their long and narrow shape can sometimes be helpful in fitting them into a landscaping plan. We built this court, stone walls and hardscapes around it at a Charlotte area home. This particular bocce court is made from crushed oyster shells, brought in from California.
Swimming Pools Remain an Idea People Love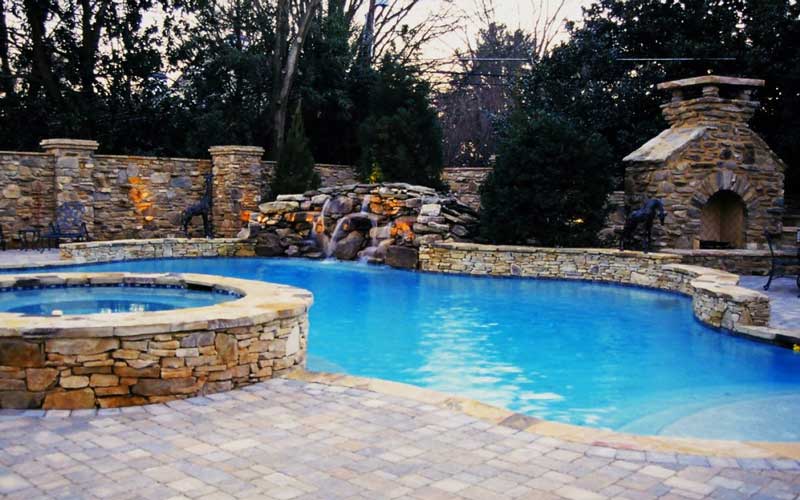 Swimming pools remain a popular recreation and entertainment element in backyard living. The pool pictured above shows off how a pool can be dressed up with a paver deck, stone walls and you can also see an outdoor fireplace on the right side behind the pool. You will need a decent size yard and those are not that easy to find in most Charlotte area neighborhoods where a .20 acres is a common lot size. Not too mention all the sloping yards we have around here. But there is still something inviting about a backyard swimming pool and it can provide great enjoyment for young and old.
Pickleball Courts are a Newer Option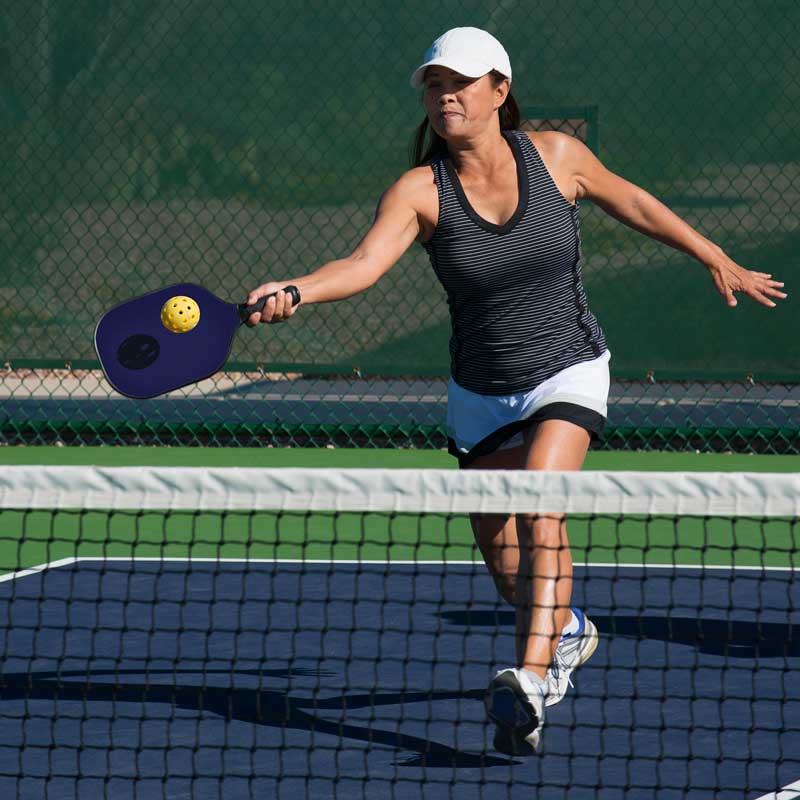 Pickleball is becoming more popular around the country. This small-scale version of tennis is growing rapidly in the Charlotte area. The smaller size of the court (about 1/3 of a tennis court) makes it easier to fit in backyard living plans than a tennis court. It isn't going to fit in most yards, but if you have some land, it is a great option for giving teenagers and adults of all ages something fun to do in the backyard.
Landscaping Ideas Without Grass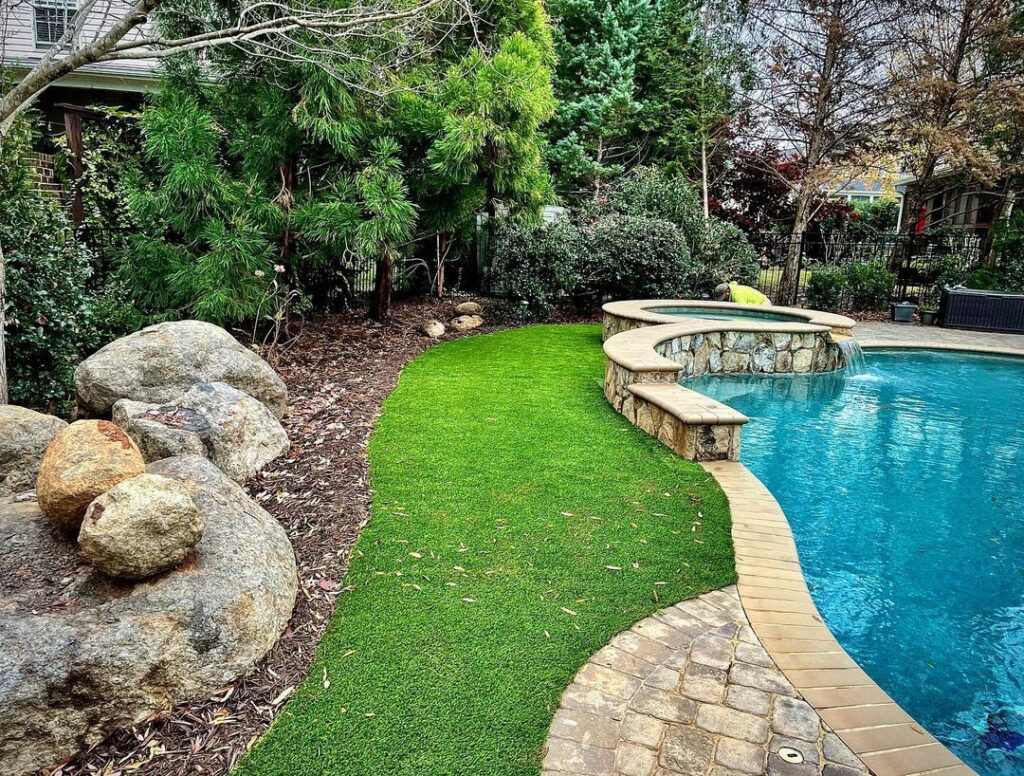 Grass can be a pain for so many reasons. Fescue can be hard to maintain during hot, dry summers here in the North Carolina/South Carolina piedmont. Many people hate the alternative bermuda because pets track so much dead grass in during the winter and bermuda grass spreads everywhere you don't want it. Plus, grass creates maintenance chores like mowing and fertilizing. So we do get asked for landscaping ideas where grass is an issue.
There are a number of ways to landscape around grass. One of those ways growing in popularity is installing synthetic turf. The better fake grass solutions provide a soft evergreen solution that looks like real turf. Yet, you don't have to mow, trim, aerate, or fertilize. Other ideas for working around grass in landscaping include:
Patios
Decks
Walkways
Planting beds strategically located in the lawn
Hardscape walkways
Rock gardens and drainage utilizing rocks
Mulch or gravel areas
Backyard Ideas for Entertaining
Paver Patio as your outdoor room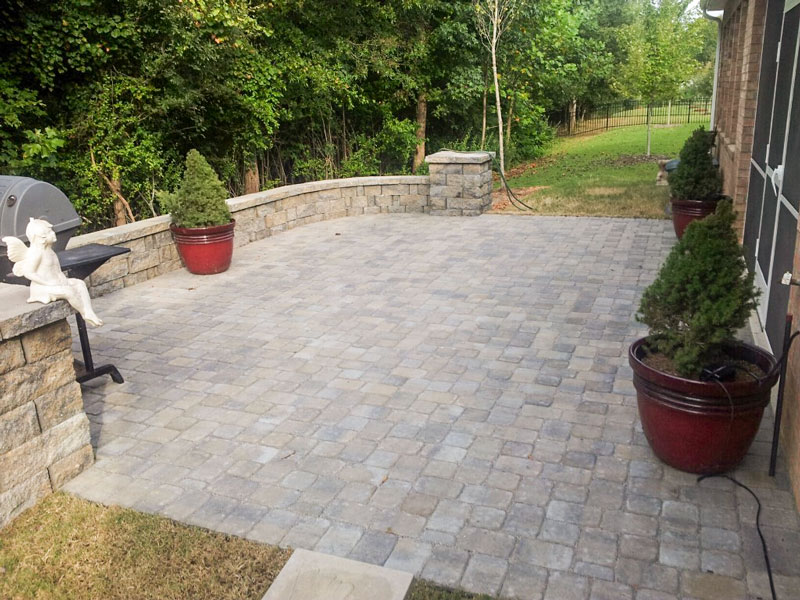 Adding a great living space to your yard is one of the main reasons people add patios. Paver patios allow you to select the color and feel of your patio. There are a lot of options to choose from, so your patio can match the style of your house. Patios make great seating areas for dining, casual conversation and even gathering around a fire pit or outdoor fireplace. The National Association of Realtors put together a study of outdoor remodeling projects with expected payback and patio pavers return an average of 69% of the original cost when you sell.
Outdoor Kitchen for Feeding Your Guests

Outdoor kitchens can be as simple as adding a grill to your patio or deck. But in this case, we're talking about going for the full experience. A built-in grill, sink, ice chest or outdoor refrigerator, storage drawers, and a nice countertop. We've built a lot of outdoor kitchens. They're great for entertaining and they ranked among the top 8 backyard living design elements for 2018. They also will recover about 71% of the cost you sunk into them when you go to sell your house, which is higher than many outdoor design projects. Kiplinger's Personal Finance even included outdoor kitchens in a list of 10 small home projects that are a great value. Even if you don't want to build a full outdoor kitchen, including a dedicated grilling space in your landscape design plan is always a good idea.
Enjoy the Outdoors More with a Fire Pit or Fire Feature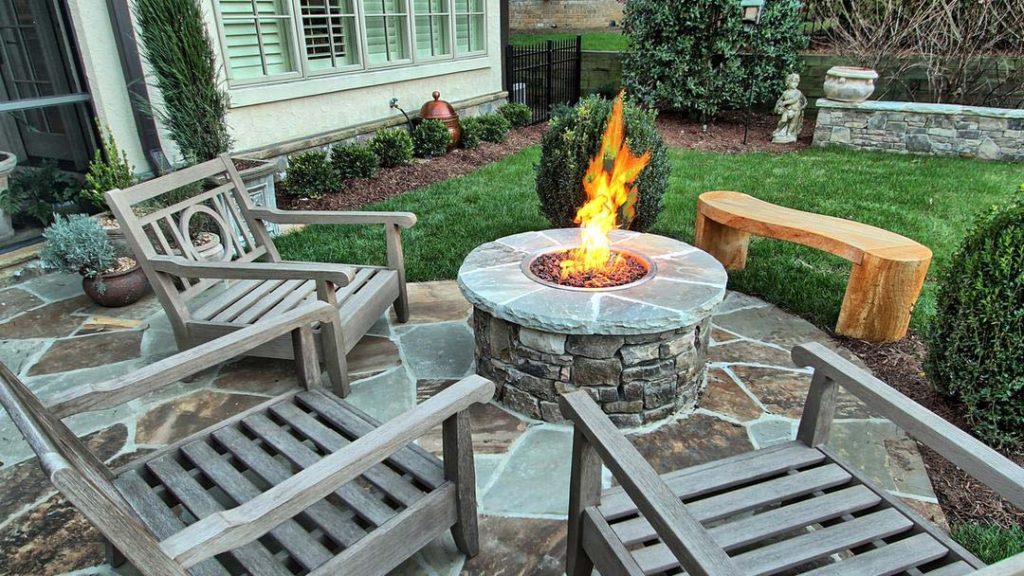 Fire pits are the top addition for people looking to get enjoyment out of their backyard. In the National Association of Realtors survey, fire features scored a 10/10 on the "joy" scale that measured how happy people were with the project after completing it.
Almost two-thirds of master landscape design plans are expected to include either a fire pit, fire table or outdoor fireplace. There are few design elements that can extend the time you can spend in your outdoor space. Fire elements accomplish this by making those brisk spring and fall evenings more comfortable. They also provide ambient light that sets the mood for great conversations late into the evening.
Fire features are a great addition here in the Charlotte area, where a little heat will allow you to enjoy your backyard most of the year. A basic fire pit or fire table is pretty easy to add to an existing patio. If you want a gas burning fire pit and don't want to haul propane tanks, then a permanent fire feature with a gas line from your home is a great idea.
We build all types of fire pits and outdoor fireplaces, which help extend the use of your outdoor spaces by making it more cozy to sit outside in the early spring and late fall. We often build seating walls near the fire pit to provide extra seating for enjoying an evening in the backyard.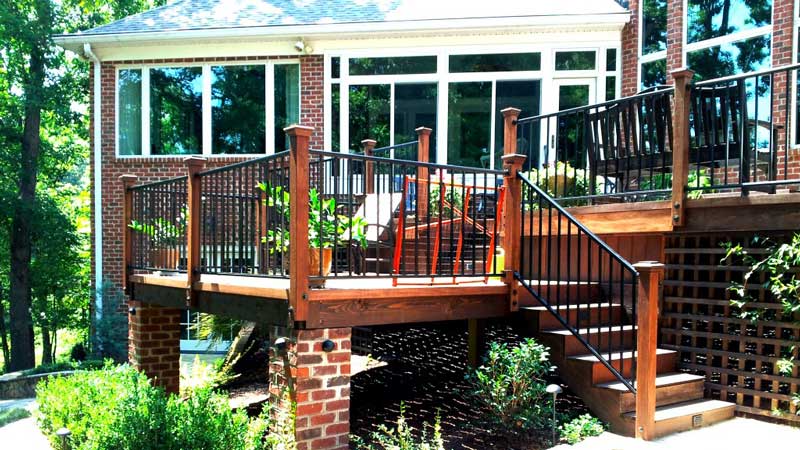 Wood Decks – Especially for Sloped Yards
Decks are great solutions for adding outdoor living areas, especially when your yard is sloped like so many are here in the piedmont region of North Carolina and South Carolina. We've done a lot of projects that include decks, from adding them to expanding them to adding stone stairs and pillars.
Other Landscaping Ideas
Install an Irrigation System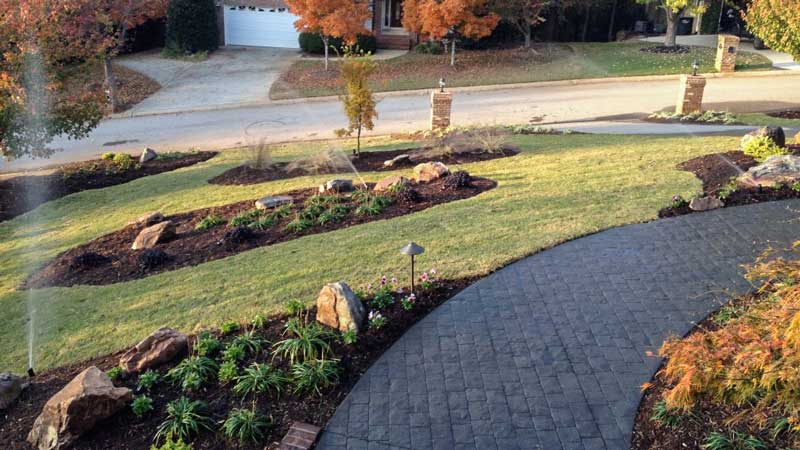 At an estimated cost of $3,500, adding an irrigation system is a great way to reduce the work involved in maintaining your law when we hit those 90 degree afternoons for weeks at a time without much rain here in the Charlotte area. Your grass, landscape plants and trees will all be healthier with regular irrigation and you won't have to drag hoses and sprinklers around all the time. That's probably why this one got a 10/10 on the "joy" scale from homeowners surveyed by the National Association of Realtors. With an expected payback of 86% of the original project cost, this is highest returning addition to your landscaping. We regularly install irrigation systems as part of our landscape design and build process, so just let us know that you'd like to include it when we're in the planning stages.
Extend Your Outdoor Hours with Landscape Lighting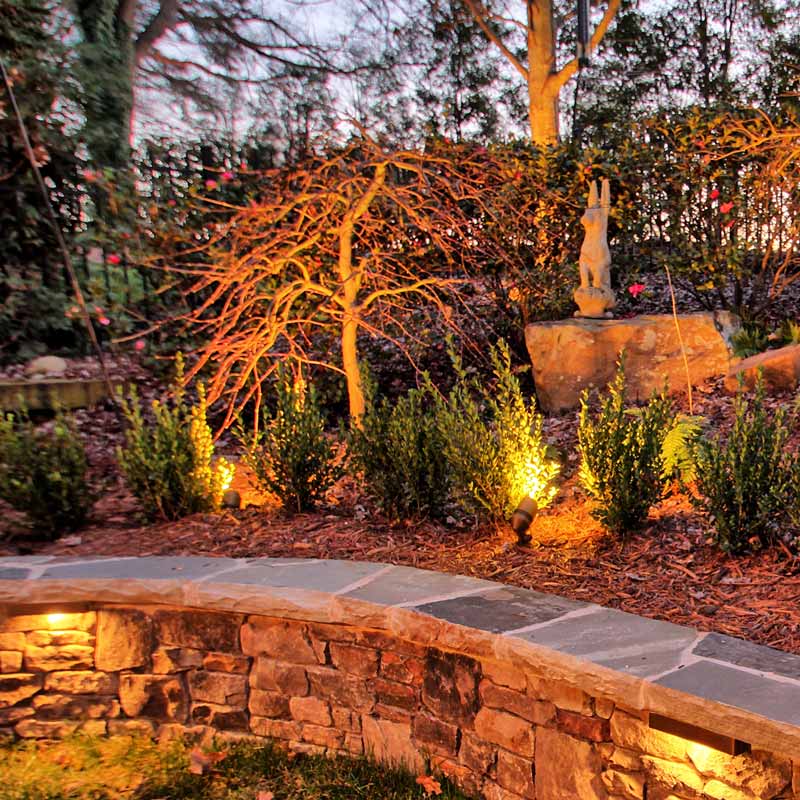 Another great way to extend the enjoyment and use of your outdoor spaces is with landscape lighting. Whether you are outside or not, accent lighting can create a pleasing feeling to your outdoor space. Properly placed LED low-voltage landscape lighting also dresses your yard up during the overnight hours, creating interest throughout your yard. It can also make being in your yard at night safer.
Upgrade Your Plants and Walkways

There are a lot of options for what counts as a landscape upgrade. The NAR defined such a project as installing a flagstone walkway, adding two stone planters, 5 shrubs and a 15-foot tree. This type of upgrade is a great solution to problems like needing to create a privacy screen from a neighbors yard or adding interest along a fence line. But the bottom line is that spending money to upgrade the walkways and plants in your backyard will return most of the money you put into it when you go to sell.
Take the Indoors Outside with Electronic Entertainment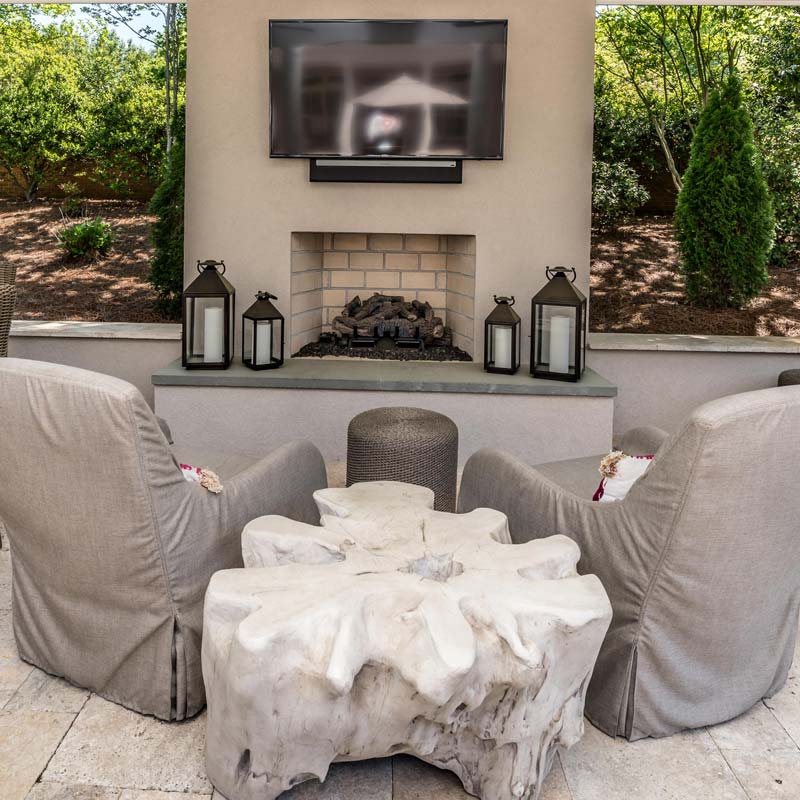 Televisions and speaker systems are probably the most common type of entertainment built into backyards. We're also seeing more demand for extensions to make sure the outdoor space is in wifi range.
Make the Yard More Peaceful with a Water Feature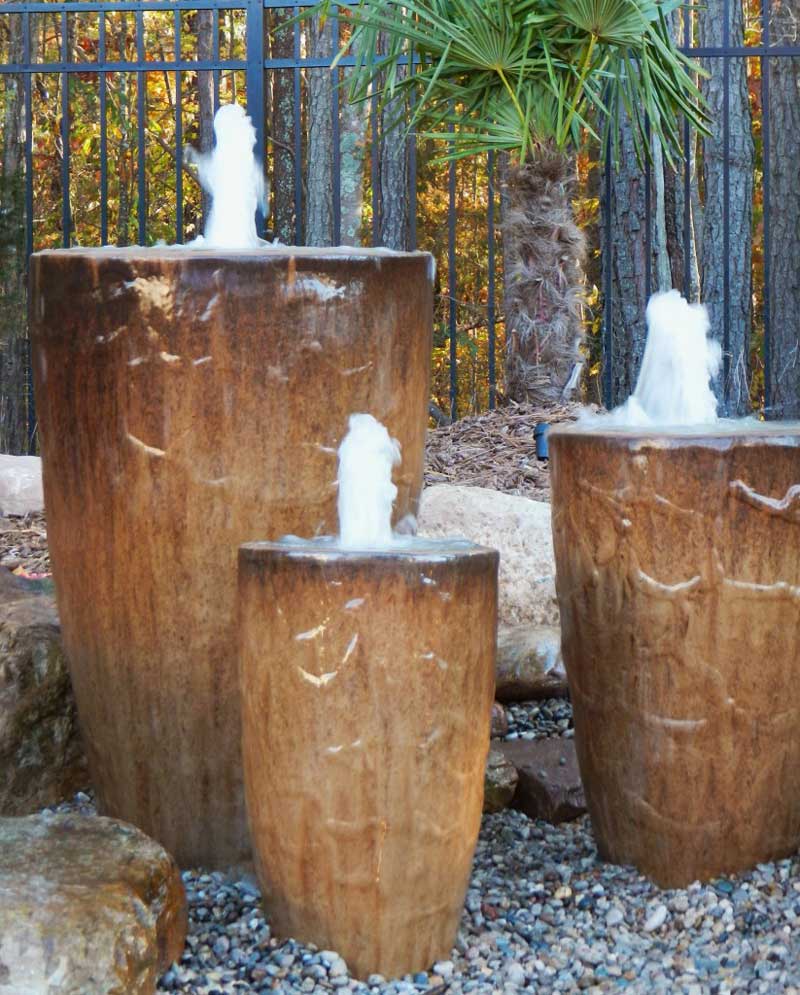 Fountains, pondless waterfalls, or even bubblers add interest and calm to your backyard. The sound from the gurgling or running water will help mask some of the traffic or other city noise around your home. We install many different types of water features, depending on what your goals are and the space available in the yard.
Water features get a high rating as well from the REALTORS survey. 79% of respondents said they experience increased enjoyment when at home because of the water feature.