There are two aspects of landscaping to improve your yard. Grass and plants are one. Things like patios, walkways, stone borders, boulders, concrete and even gravel or metal are hardscape. Common hardscape materials in Charlotte, NC are rocks, concrete pavers, gravel, boulders, stone and concrete. Hardscape installation generally requires at least some level of construction to be done correctly. Whether you want to add some hardscape in the backyard, along the side of the house, or in the front yard, here is some information about adding hardscapes to your yard and what type of projects that might include.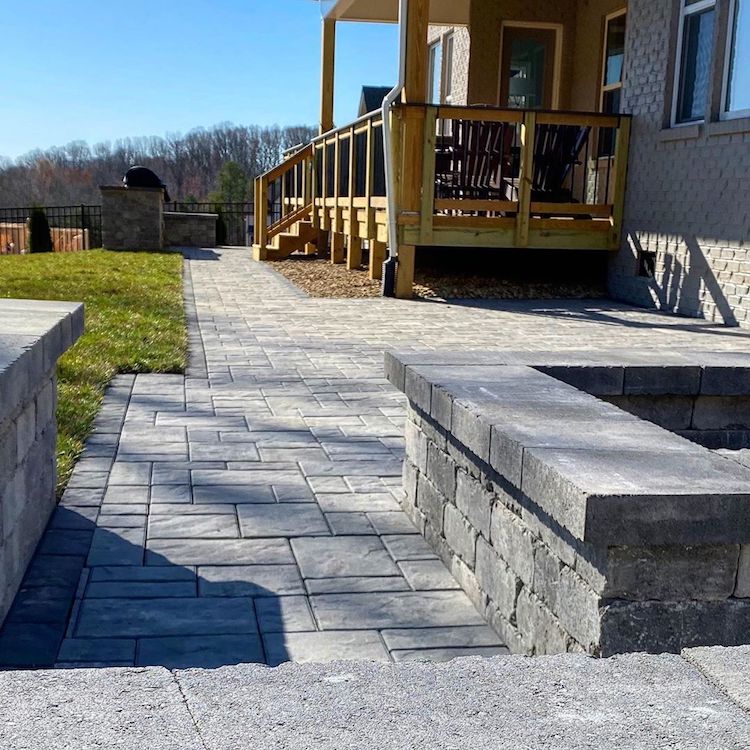 How much does hardscaping cost and is it a good investment?
Hardscaping costs are pretty hard to estimate without specifics as there are so many elements that can be considered hardscape. A fire pit will generally cost more than adding some stepping stones, but less than a patio. But even with each of these elements, the exact materials will impact the costs. If you choose natural stone for your patio, it will cost more than a concrete paver patio. Even when choosing paver patios, you can go with cheaper and less expensive types of pavers. In general, hardscape requires more material costs than adding trees, bushes, flowers or mulch. However, hardscaping also provides lasting value and utility that is different than plants.
Here are a few things that might impact the cost of your hardscape landscaping.
Type of project – special tools or machinery can increase costs
Materials – as stated above, there's a wide range at different price points
Your Yard – difficult to access areas, additional drainage needs and slopes can have an impact
Labor costs- professional installation will be faster and better, but self installs save money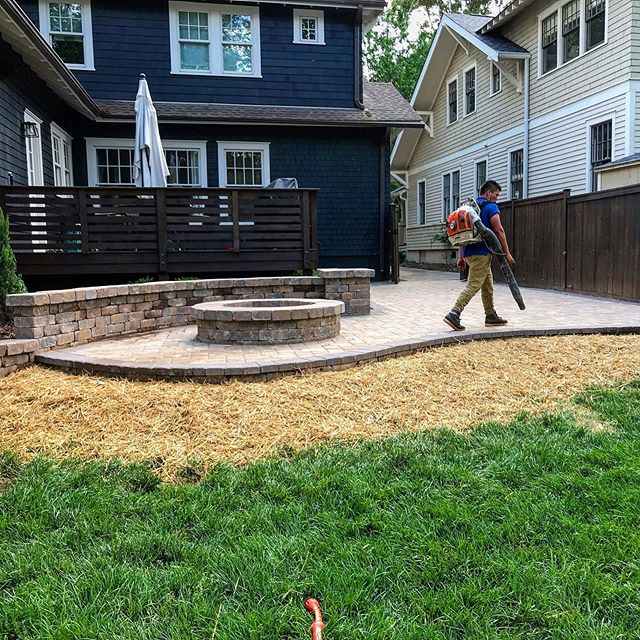 Value is there for the right projects
Many hardscape projects are very popular additions to backyard living areas. Patios, fire pits and outdoor kitchens/grilling stations are among the top 10 outdoor projects real estate professionals say add lasting value to your home. In addition, outdoor kitchens, fire features and water features are all considered to be great values because of the enjoyment they bring, as well as helping sell your home in the future.
Types of Natural Hardscaping Materials
Traditional farm and garden walls in Europe used stone. There is still a lot of beauty and utility in using natural materials in your hardscaping. Among the most common natural materials being used are stone, rocks, boulders, gravel, and river rock.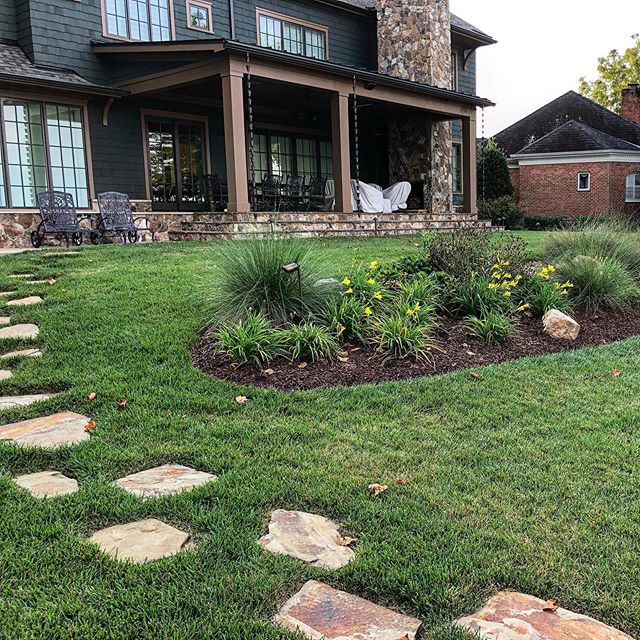 Stone
Stone is a great material for use in many hardscape applications. The most common are as an outdoor floor (patios, walkways), decorative walls and decorative touches around pillars or outdoor kitchens. Hardscaping with stone provides a long-lasting and weather resistant material. Natural stone is more expensive than most concrete pavers, but it provides an ideal look to make your front walkway standout.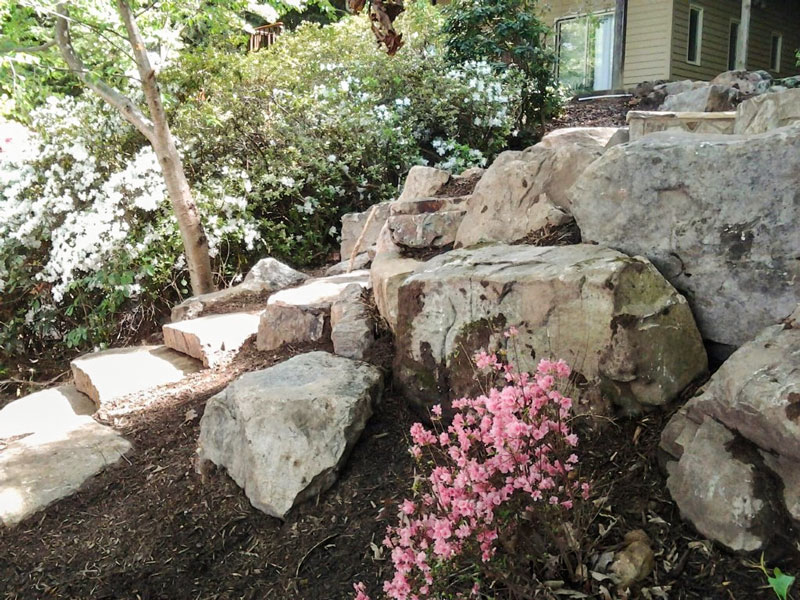 Boulders and Large Rocks
Provide visual interest and occasionally some functionality in landscapes by adding boulders and large rocks. They can be used to create a natural look for flower beds. Boulders are also good a creating a boundary without adding something as formal as a wall. A line of boulders, for example, can be used to direct foot traffic in a certain way, as most of us (children and adult children excluded) prefer not to walk on top of boulders. You can even use low-voltage lighting on boulders to add highlights to your landscape at night.
Smaller Rocks and Gravel
Loose rocks and gravel can serve a number of purposes in your yard. In some cases, the more informal gravel walkway may serve you better than a paver or stepping stone path. River rock and pea gravel can be used in place of mulch around bushes and trees in landscape beds. Using rocks and gravel in dry creek beds or drainage areas can also add beauty and functionality to your landscape.
Slightly larger rocks can be lined up to provide borders to planting and landscape beds. Rocks are also a great addition to water features, such a ponds and fountains.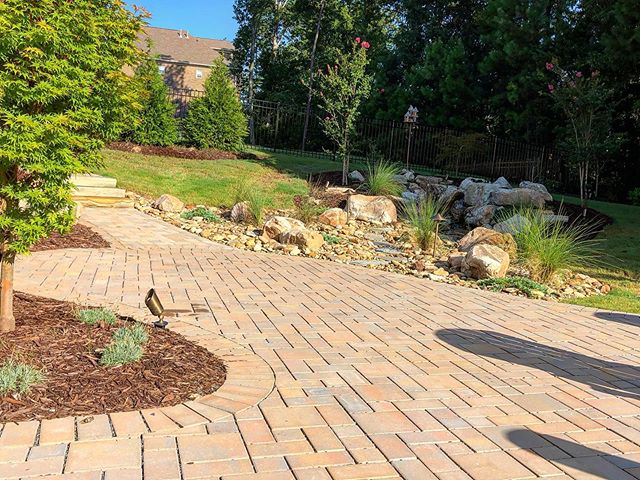 Types of Man Made Hardscape Materials
A significant amount of hardscaping is done with man-made materials. These include concrete, concrete pavers, concrete blocks, dimensional lumber (decking, railings), metal (railings, sculptures), plastic (common in drainage materials) and brick.
Because of their hard nature, most of these materials are used for building structure into the landscape. This may be creating a sitting area (deck, patio, wall), dividing the outdoor space into "rooms" (walls), or providing pathways that connect two outdoor spaces (steps, walkways). In the case of wood or composites, this may also include building features like pergolas and decks.
Concrete, concrete pavers and brick are all common materials found in walkways, patios, driveways and retaining walls. Lumber and composites are used in decking and some structure building. All of these materials can last a long time when installed and treated properly. They have different price points and certainly present different looks for your outdoor spaces.
Hardscaping Ideas for Your Front Yard
Hardscaping can provide great curb appeal for your property. Whether you spruce up the entrance to your driveway, the whole driveway, or just the walk up to your front door, hardscaping can make a big visual difference in your yard.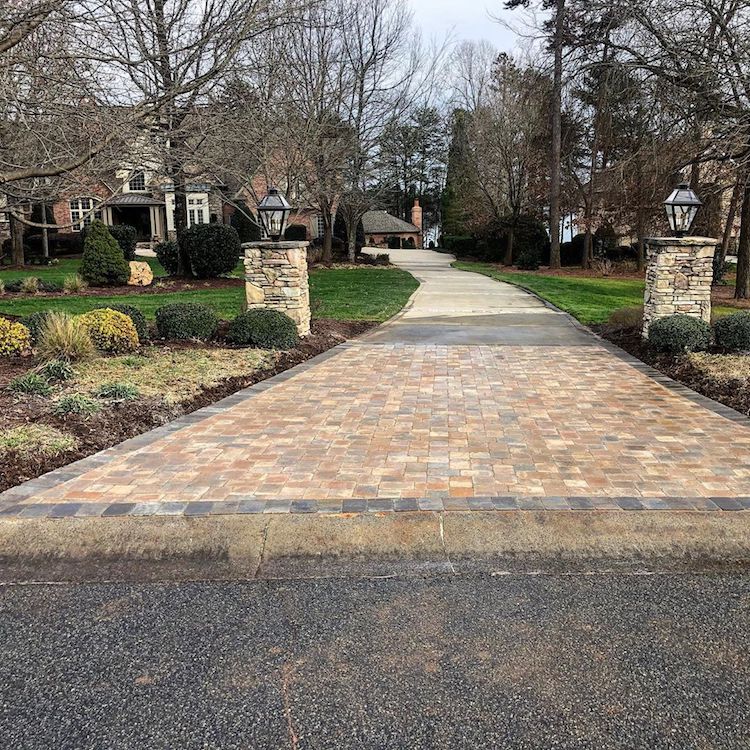 Hardscape Driveway
Driveways are usually the largest hardscape area in the front yard. While most builders will install a concrete driveway, pavers can really make a difference in the curb appeal of your home. There are many options when it comes to using pavers in driveways. Some people like to accent the entrance of the driveway where it meets the street. Others like to add some additional walking space. You can actually use pavers to replace the entire driveway if you like.
Improve Your Front Walkway
Most homes in the Charlotte area have been built in the past 30 years. The area has grown a lot, but that also means that tract builders installed basic concrete walkways that make every entrance to every house look alike. You can make the entrance to your front door stand out by adding a paver walkway, either from the sidewalk or from your driveway, depending on how your front yard is set up. While you are at it, you might want to widen that walkway a bit from the standard 3 feet to 4 feet to make the walkway more impressive visually and make it more comfortable to walk on.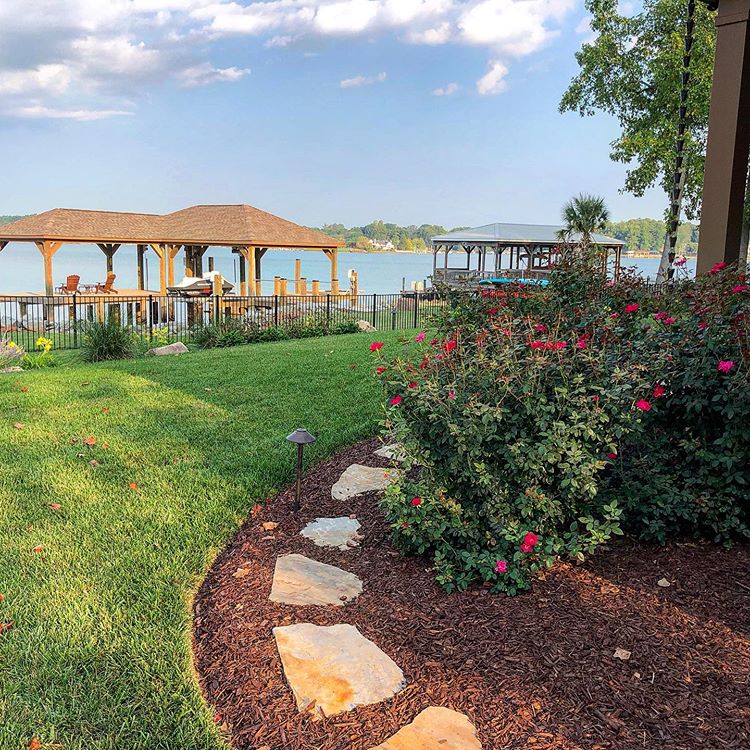 Use Hardscape Around Trees and Planting Beds
Using pavers, specially designed edgers or even stacked stone, you can create much more interesting front landscape planting areas. Using hardscape to set off the lawn from the planting beds adds visual interest and also makes lawn maintenance a little easier. This border provides a stopping point for grass, which helps keep it from growing into the planting beds (unless you have bermuda grass).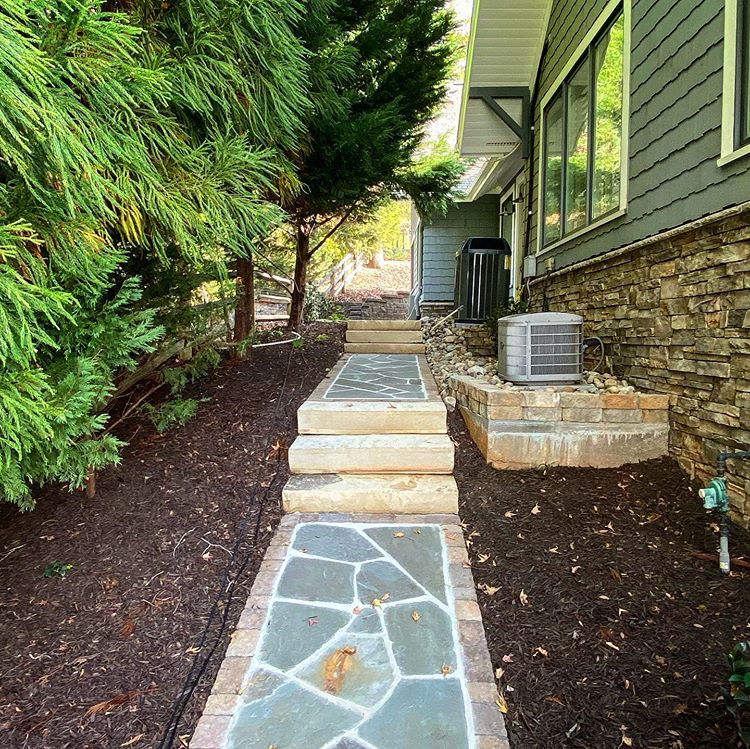 Add New Walkways
Your front and side yards generally have no walkways, unless somebody has put them in before you moved in. Walkways from a side garage door to the backyard or trash can area can be helpful. Pavers, stone or stepping stones are good ways to prevent worn out spots in the yard where you walk regularly.
Want to learn more? Read our article about adding walkways to your yard.
Hardscaping Ideas for Backyards
You probably don't have to think too hard to come up with some backyard hardscaping ideas. You can carry over some ideas from the front yard, like walkways and edging. Patios and pool decks are easily the most common backyard hardscape. There is a lot that can be done to give your backyard a more impressive look with pavers, stone or other similar materials.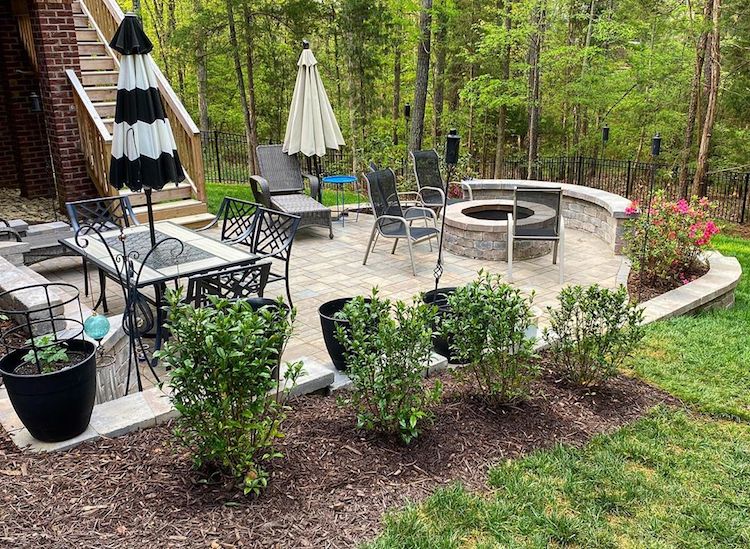 Patios
Patios may be the most common hardscape we install. They provide a great social gathering space for the family or entertaining guests. Patios can create outdoor rooms like kitchens and living rooms. They can also provide smaller sitting areas for things like fire pits, lake views or sunbathing.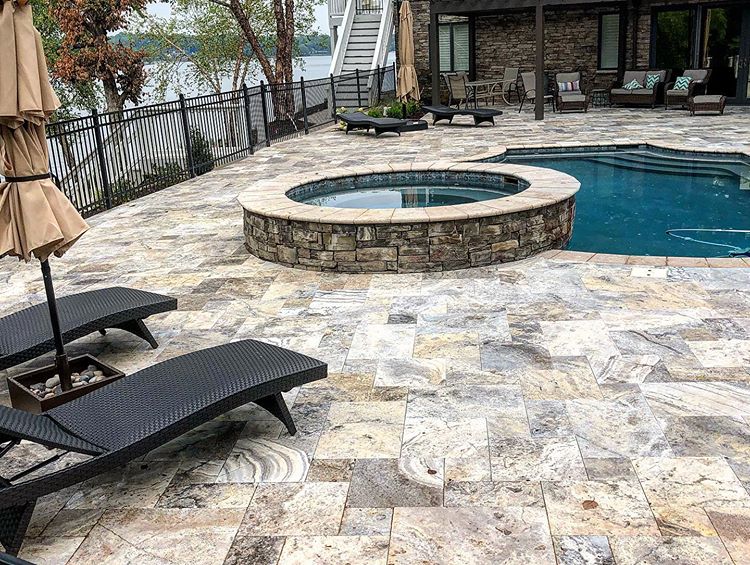 Paver Pool Decks
Pool decks are sort of like patios, although you'll see a lot more of them made from concrete than pavers or stone. But just because that is what pool builders like to put in, doesn't mean you can improve the look of your pool deck area.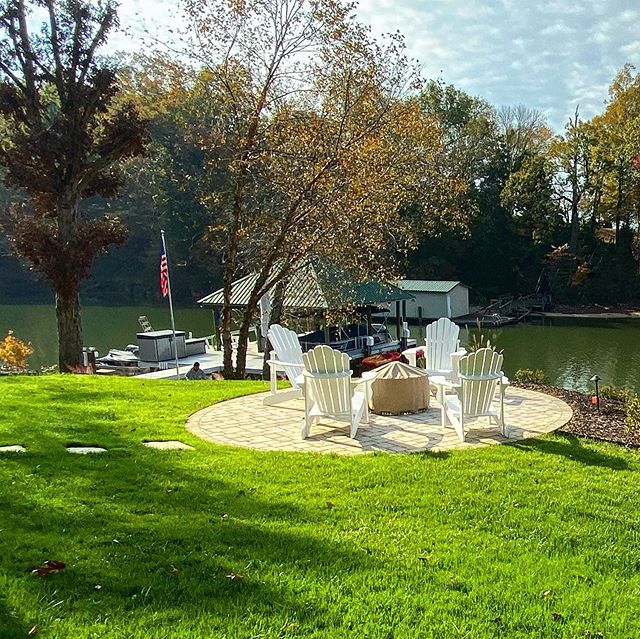 Stand Alone Fire Pits
In some cases, fire pits may be better off in their own space away from a busy patio area. You can build a small fire pit area with built-in fire pit and maybe some seating walls for safety and enjoyability of this area.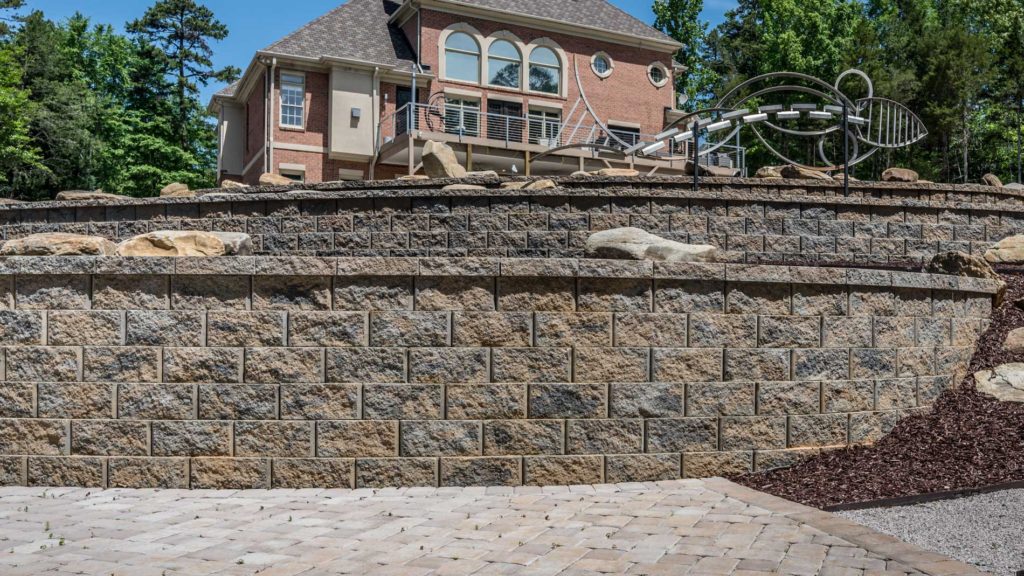 Retaining Walls
Hardscape doesn't have to be something that is under foot. Retaining and seating walls are both useful examples of hardscaping that you don't walk on. Walls can help divide spaces. Retaining walls can divide spaces and also create new and better spaces in your yard. This is especially true here in the Charlotte area (and even more so along Lake Wylie) where many yards have significant slopes. Retaining walls and terracing can help create usable space in addition to adding visual interest to your yard.
Hardscape Makes a Difference
Hardscape is the big construction part of landscaping. It requires moving dirt around and building things, so it can be a lot messier and time consuming than adding some bushes, trees or flowers to your yard. However, it is this additional work that can help you achieve the results that you are looking for in an outdoor living space. From providing a welcoming entrance at the front of your home to giving you a place to entertain guests in your backyard, hardscape makes the difference in the value and enjoyment that you will get out of your landscaping project.
Need Help with Hardscaping in the Charlotte Area?
If you are in the Charlotte area and are in need for hardscape design and installation, we can help. We install all types of hardscapes, including patios, walkways, walls, boulders and more. Contact us to schedule a consultation and discuss your project.