Walkways are sometimes overlooked, but they play an important role in landscape design. They help you get around your yard safely, prevent unsightly wear in areas with heavy foot traffic and can add beauty and interest to your outdoor space.
Places to Use Walkways in Your Outdoor Living Areas
Hardscapes are a great solution for many challenges in a landscaping plan. Walkways can lead us along in a desired direction and keep us on the right path. Or they can simply reduce maintenance and the ugly results of too much foot traffic.
Walkways and connected steps can help you safely move from one level of the yard to another, especially when slopes are common like here in the Charlotte area. They can prevent those worn spots in your lawn in areas where people frequently walk along the same path. This might be from the sidewalk or driveway to the front door, from a side door to the backyard or between other parts of your landscape.
Preventing Dirt Pathways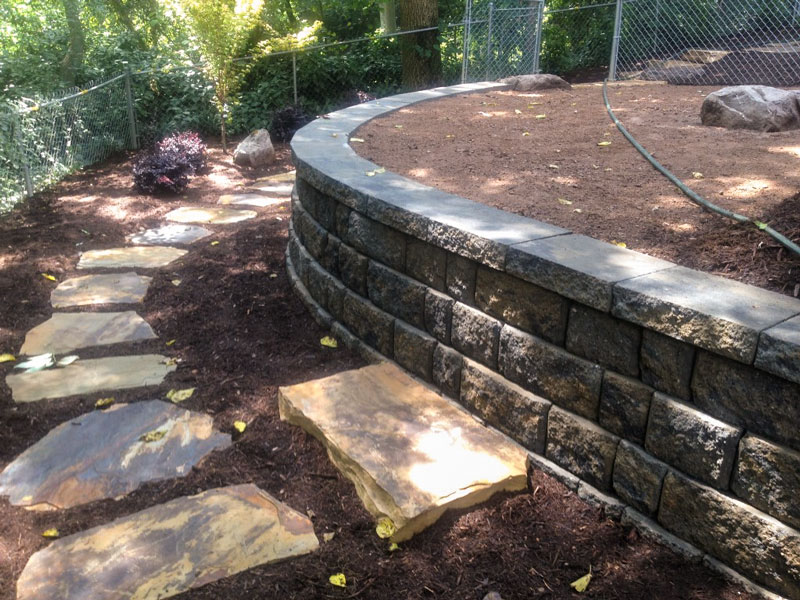 High foot traffic areas are the most common reason people want to put a walkway into their landscape. They can prevent those worn spots in your lawn in areas where people frequently walk along the same path. This might be from the sidewalk or driveway to the front door, from a side door to the backyard or between other parts of your landscape. While poured concrete is often used for front door access or outside side doors, upgrading your materials will provide a much more appealing look, while accomplishing the utilitarian goal of keeping your yard from being worn down. A side benefit to this type of walkway is that it will reduce the amount of maintenance, like weeding and mowing, that you'll need to do.
To Connect Garden Areas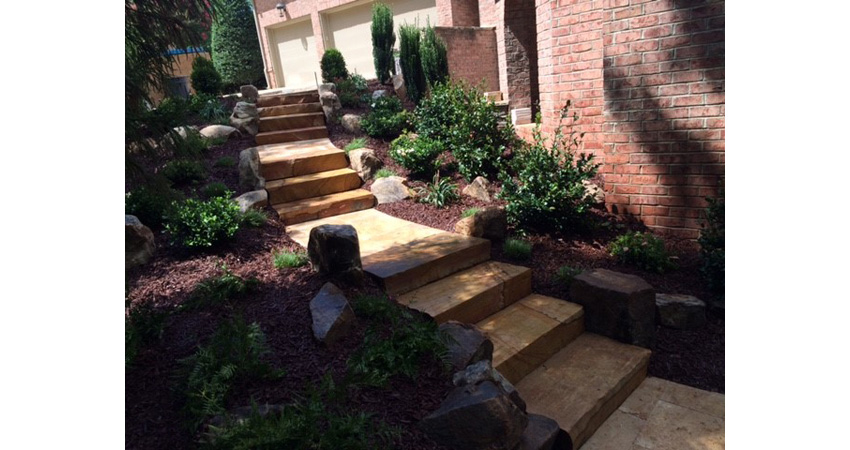 Walkways are almost always found in large gardens. You might not have a lot of garden space, but if you have some distinct areas of your yard, walkways can provide function and direction for visiting them. For example, guests will feel more comfortable walking along a pathway that leads them to a sitting area than wandering to the same spot that is not connected by a walkway. Here in the Charlotte area, where slopes are common, walkways with stairs are almost required to get you from one part of your yard to another. As an added benefit to installing these types of walkways, they'll provide a way to move from place to place in the morning without getting your shoes (or bare feet) wet from the dew.
Relaxing Labyrinths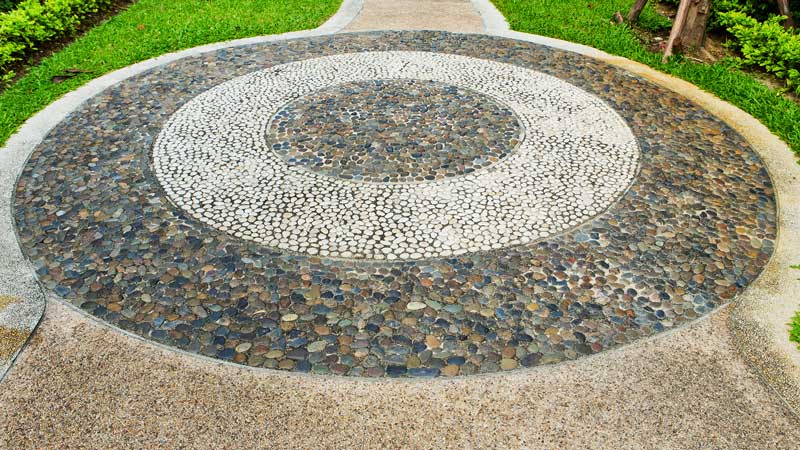 Some paths can be purely for walking around on. You'll find labyrinths, paths that don't really go anywhere in a number of public spaces. Many hospitals have put them in for patients or family members, as a way to relax. Small versions of these can be an excellent addition to your backyard space. They can provide visual interest and give you a place to calm down after a stressful day of work.
Choosing the Right Material for Your Landscape Walkway
Walkways come in all shapes and materials. The simplest form is the dirt path, which is often the result of repetitive foot traffic through a natural area that wears away the plant life and compacts the soil, reducing the chances of it being covered over by future growth. The most common type of hardscape walkways are sidewalks made of concrete. You may have some concrete walkways around your house as well. Often the walkway to the front door is concrete. However, there are many other options when it comes to installing a hardscape walkway in your yard. The right materials can create the look you are looking for, while providing a safe path to doorways or between featured spaces.
Stone Walkways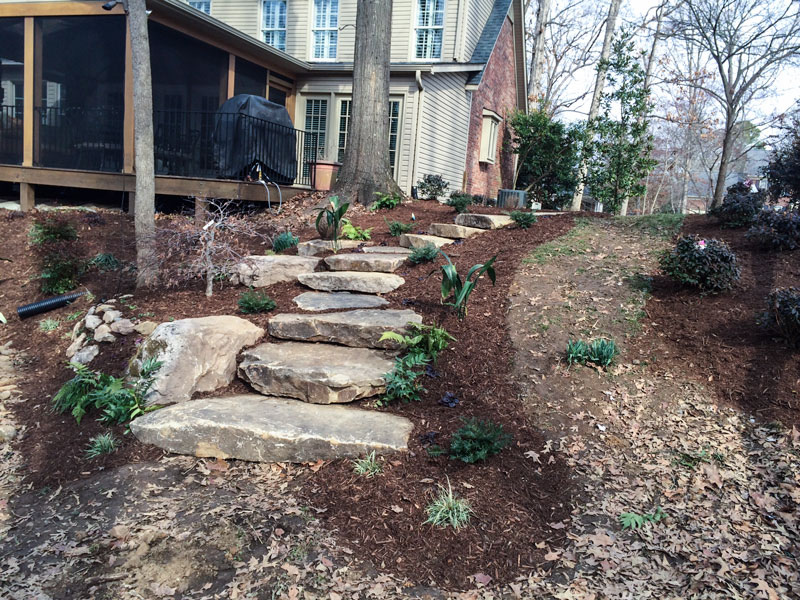 Stone is a great natural choice for a walkway, especially if you have a stone patio and want to tie into it with a path leading to a doorway or other part of the yard. Stone walkways can be simple stepping stones or they can be fully formed paths. Some of the common choices for stone walkways include flagstone, limestone, bluestone, granite and travertine. Stone is a completely natural material, which means it can come in irregular shapes and sizes, which can be great for a more natural stepping stone path. Thankfully, stone can also be cut into more precise shapes, allowing its use in rectangular shaped walkways as well. Stone is a great durable material and most people really enjoy the way it looks when properly installed in the yard. Cost wise, it is definitely a higher end material, and there are some other great options for creating hardscape paths.
Brick Walkways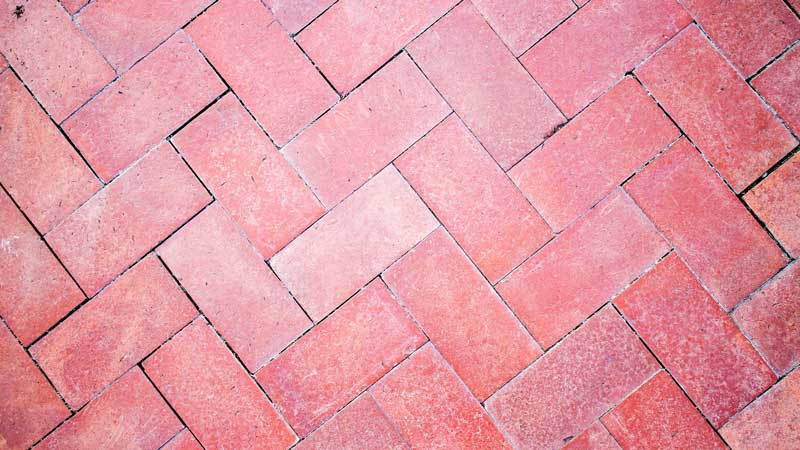 Brick provides a classic look and may be a great choice depending on the style of your home and your taste. Clay brick walkways have been used for hundreds of years as paths to the front door or in gardens. The classic brick walkway is a straight pattern, but they can also be designed in herringbone, bond or a variety of running bond patterns.
Paver Walkways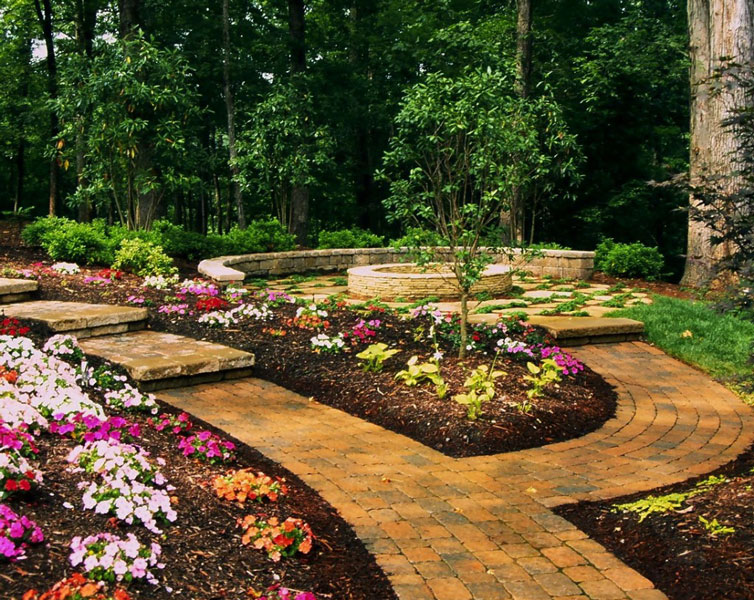 Pavers provide a lot of flexibility for creating walkways. Made of concrete, they are durable and strong. Unlike natural stone, they are manufactured, so they are available in a variety of colors and shapes. Like bricks, a number of patterns can be created, which can add to the interest of the pathway. Since pavers are a common choice for patio construction, using them to create walkways can help keep your landscape cohesive.
Walkway Ideas
Need some inspiration? Here are a few additional walkway ideas for your outdoor living space.