Outdoor LED lighting is a terrific way to enhance your home's beauty and add security during the evening hours. Outdoor living can be a lot more enjoyable when you can use your space longer each day. Here are a wide range of landscape lighting ideas that accomplish a number of goals. Some you can easily add yourself and others are probably better installed by a qualified professional. While daylight is great, you can use your outdoor area even more if you add some outdoor lighting.
There are many things to keep in mind when adding landscape lights. Traditionally, landscape lighting is done using low voltage landscape lighting. Now, there are many battery operated smart lights available which can also be useful. Each home is different, which is why it can be helpful to have somebody with experience helping you with landscape lighting design and installation. Lighting specialists understand techniques of balancing light and dark places, beam spread, and path lighting vs. directional lighting. Properly utilized, these can set your home apart from the rest.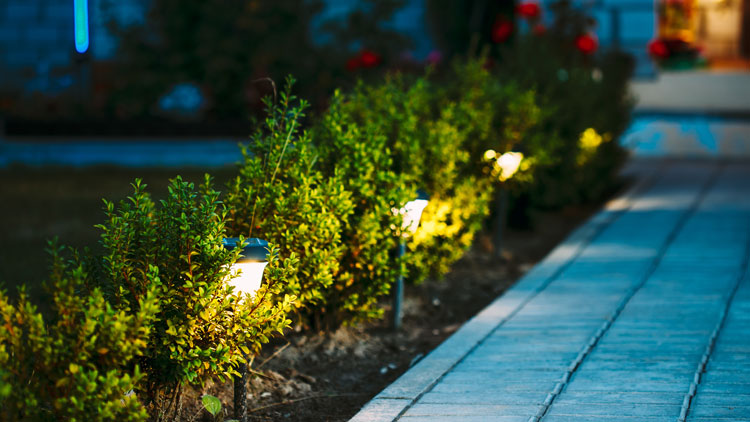 Low Voltage Landscape Lighting for Paths and Steps
Most outdoor spaces include walkways or paths to help connect different parts of your yard. If you haven't installed some paths already, you should read our article about getting more from your yard with walkways. Lighting these walking paths will make your yard more friendly and safer at night. One of the best ways to light walkways is to use low-voltage LED lighting. Among other things, this allows you to switch lights on and off when you need them.
While there are many different products on the market, we still think that low voltage LED landscape lighting is the best choice in most cases. Solar landscape lighting is cheap and easy to install. However, when the solar light stops working, it usually means replacing the entire light, not just a bulb. You also don't have the same options, like using a timer system or even a smartphone app to control your outdoor lighting if you choose solar. Outdoor LED lighting provides the same benefits of older systems, but with long lasting bulbs. It is much nicer not spending time troubleshooting and replacing light bulbs. There are still wires to bury and a low voltage transformer to install, but these provide consistency and control in your outdoor lighting.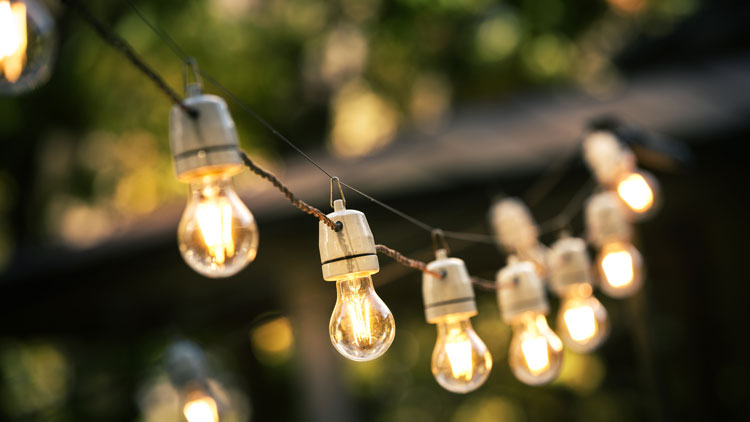 Overhead String Lighting
String lights can give you the classic look of a European cafe at night and are now very popular. Whatever choice you make in your lighting can impact the entire feel of your outdoor space. And it can also make a pleasant evening even more enjoyable. There's just something special about string lighting.
Most string lighting is traditional wiring, so you may need an electrician to at least install an outlet in the right area. Landscaping companies can provide help with places to string your lights, including installing posts specially designed for stringing lights in your yard or across your patio.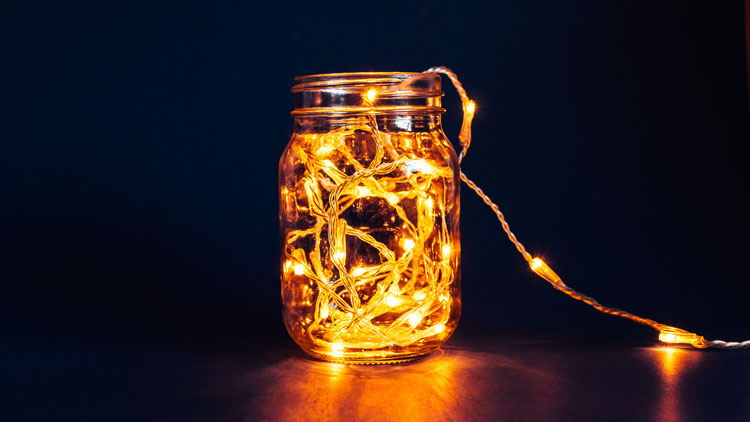 Do It Yourself Mason Jar Lights for Outdoor Living
Looking to add a whimsical touch to your outing without overpowering it? Here is a landscape lighting idea that is easy for anyone to add to their yard. Some battery powered lights or candles in mason jars will add some rustic lighting to your outdoor dining table. These are ultra simple and inexpensive ways to add a special lighting touch.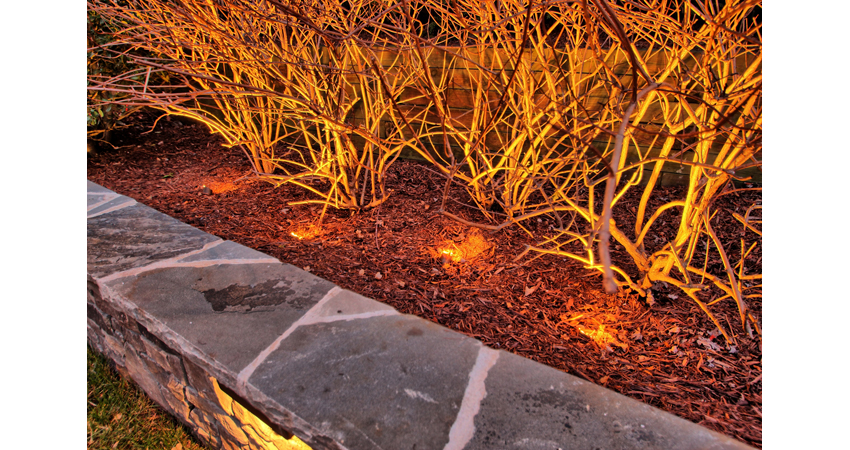 Landscape Lighting Ideas for Your Garden
Light up your garden with some low-voltage lighting for a more comfortable outdoor space. Garden lighting isn't just limited to the back yard. You can add lighting to the front as well for increased curb appeal. This type of lighting is great for trees, bushes, along walls, near a pool or even around a deck. The possibilities are only limited by your yard and a good landscape lighting design will make your yard look amazing.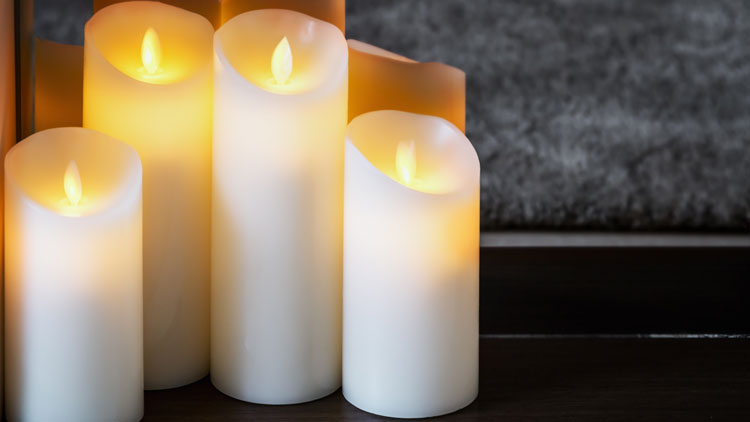 LED Candles for Accent Lighting
Another way to add some accent light temporarily to a path or your table is with some LED candles. No need to worry about starting a fire during a busy party when you use battery power. A good set of LED candles can add a little romantic atmosphere to an outdoor seating area.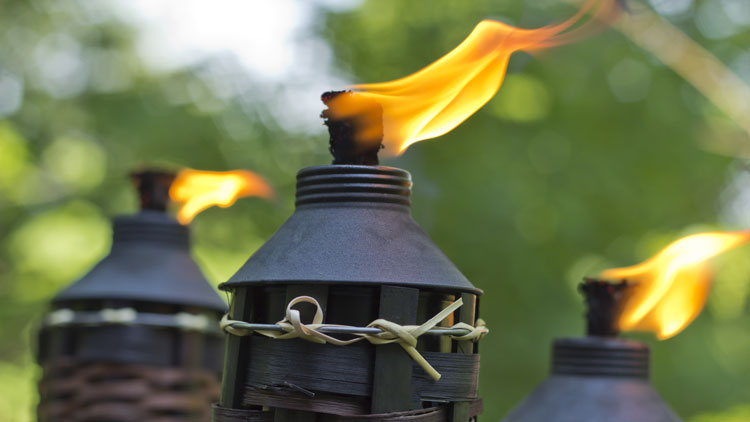 Tiki Torches – A Temporary Landscape Lighting Idea
Here's an old standby for outdoor parties. The nice thing about tiki torches is that you can put them out for a gathering once and awhile, but they don't have to stay in your yard all the time. If you're throwing a themed party or are just looking for some extra light on the lawn one night, these can come in handy.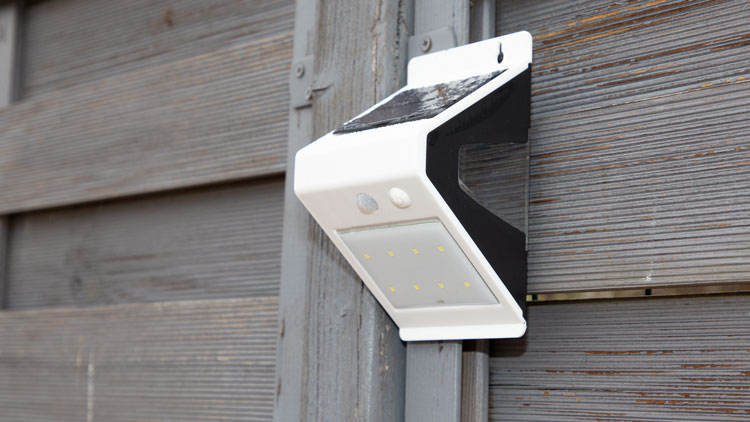 Motion Sensor Lights
Great for security and convenience, motion sensor lights are usually attached to the side of your home. You can place one outside by where you keep your trash cans, or just about anywhere you might need to walk near your house after dark. Some people like to place them near doors to make it easier to see the lock at night.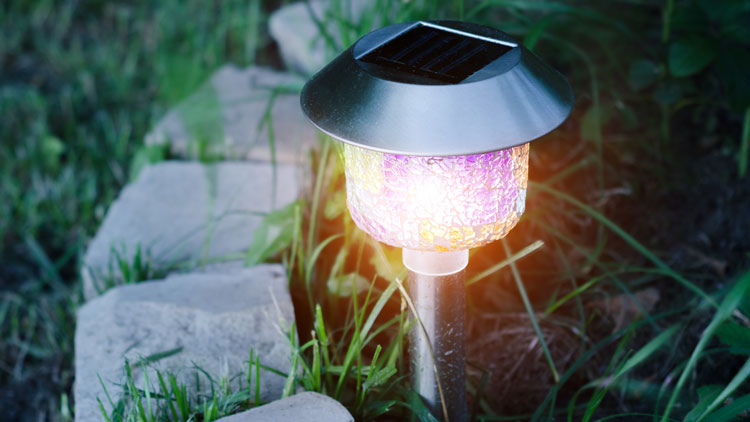 Solar Lighting for Accents
In small areas, a solar powered light or two can add a nice accent. Some solar lighting ideas include adding post top solar lights, decorative lights shaped like turtles or other animals for the garden, or more standard varieties. Solar lights do need plenty of sun during the day and still tend to be dim, so they aren't the ideal solution in all applications.
Landscape Lighting Ideas Make Your House Stand Out
Lighting can make a big difference in the way your house looks from the street, how friendly it is to use your backyard spaces at night, and can create an enjoyable ambiance while you are enjoying your outdoor living areas. Sometimes, all it takes is a little creativity to come up with landscape lighting ideas that will add interest to your yard. For a professional landscape lighting design and installation in the Charlotte area, please contact us.