The sounds of a rippling waterfall, the crackling flames in a fire pit and the colorful sight of flowers and plants around you. These are the images you've seen in a magazine or on television, but are not certain they could ever be in your backyard.
You've found the Benton Outdoor Living Design Guide. A place where you can learn a little more about the practical and the art of landscape design. You won't need all this information to transform your landscape if you hire us, but it is a good reference as you are thinking about what can or should be done in your yard.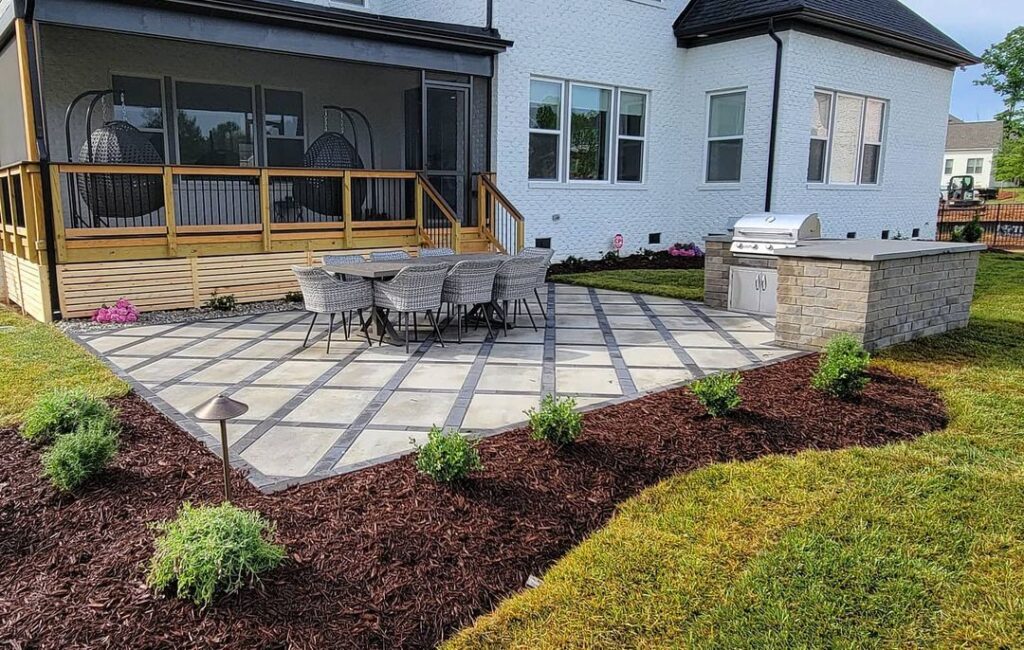 Where to Start with Landscape Planning
There are a number of things that can be done to make your backyard look like ones in magazines. However, there are some critical things that affect what CAN be done versus what WILL be or SHOULD be done. You'll want to take some time to write down or investigate a few things to help make sure you provide the right information so a great landscape design can be completed.
Compiling Your Ideas
Your personal gripes about your current landscape. Do you need to screen off the neighbors? Do you have drainage problems?
Your goals for entertaining, relaxing or working outdoors. Do you want a low-maintenance landscape? A fire pit? A bar or built in cooking area? How do you plan to spend your time outdoors?
What type of plants do you like? Making a list of some plants you enjoy looking at or think would be nice to include is helpful for the landscape designer.
Do you want a lot of shade or do you want full sun? Or a combination of each?
Limitations of Your Space
There are some things you cannot control. Your lot size, for instance, is what it is. A large pool is unrealistic in a small yard. So, you may not always be able to do exactly what you have envisioned on your current property, but there are usually ways to give you some great solutions that you might actually like better. Here are some limitations that have to be worked around.
The size and shape of your yard
Whether or not the property is level or hilly. Sloped yards can require a different approach than you might have thought about.
Homeowners Association (HOA) /Architectural Review Committee Covenants for your neighborhood
Building codes, permitting and proximity to large bodies of water
Easements or right of ways that may impact your options.
If you are just getting started, you should ask yourself how each of these applies to you and the existing conditions of your yard.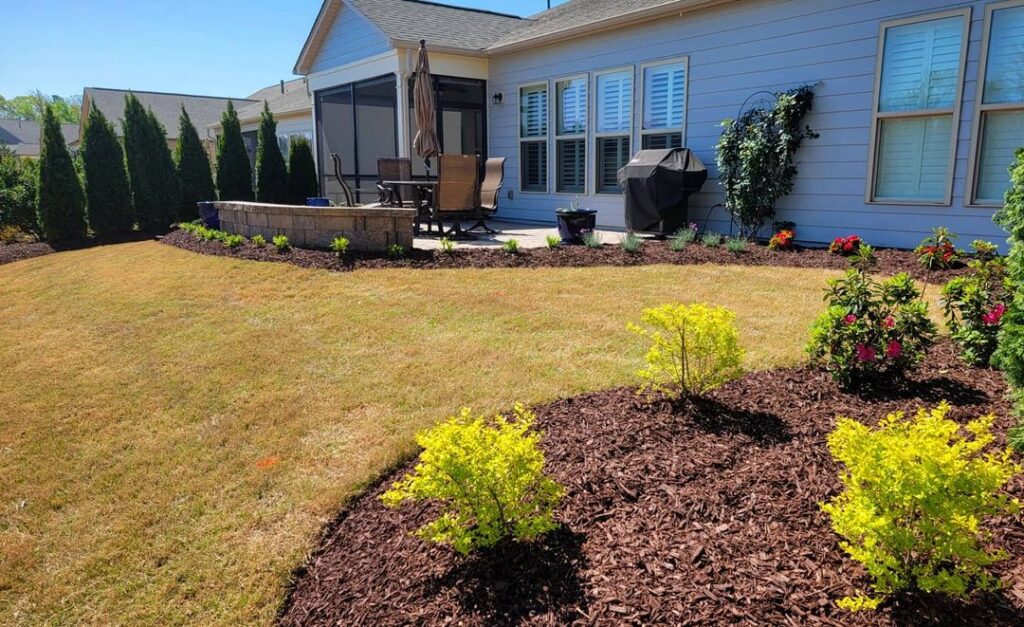 Rules for Designing Your Outdoor Living Space
When you start working on a design, you need to consider what to incorporate, but you also need to think about the principles and rules for design. There are 7 principles of landscape design.
Simplicity
Variety
Balance
Emphasis
Sequence
Scale/Proportion
Unity
And there are also 5 key landscape design elements
Mass
Form
Line
Texture
Color
Design Ideas for Your Patio Area
When you start thinking about your outdoor living space, chances are your first thoughts will be about a deck or patio area. This area is the most common entertaining space in a backyard and can often function like an outdoor room connected to your home. Because of that, you should think about your options in a similar way to if you were planning out a living room inside your home.
Patio Shape
There are really two options for patios. The traditional approach is to create a geometric shape like a square, rectangle or circle patio. These can present with a more formal appearance and one that creates more of an outdoor room feel. The other option for patio shapes is to have a curve or organic shape. This type of patio has been pretty popular in the Charlotte area for a while, but we are seeing more square and rectangle patios again recently. Working with your landscape and your home will help you determine what makes the most sense for your patio shape. Remember, you can always use landscaping around the patio to give it a different appearance.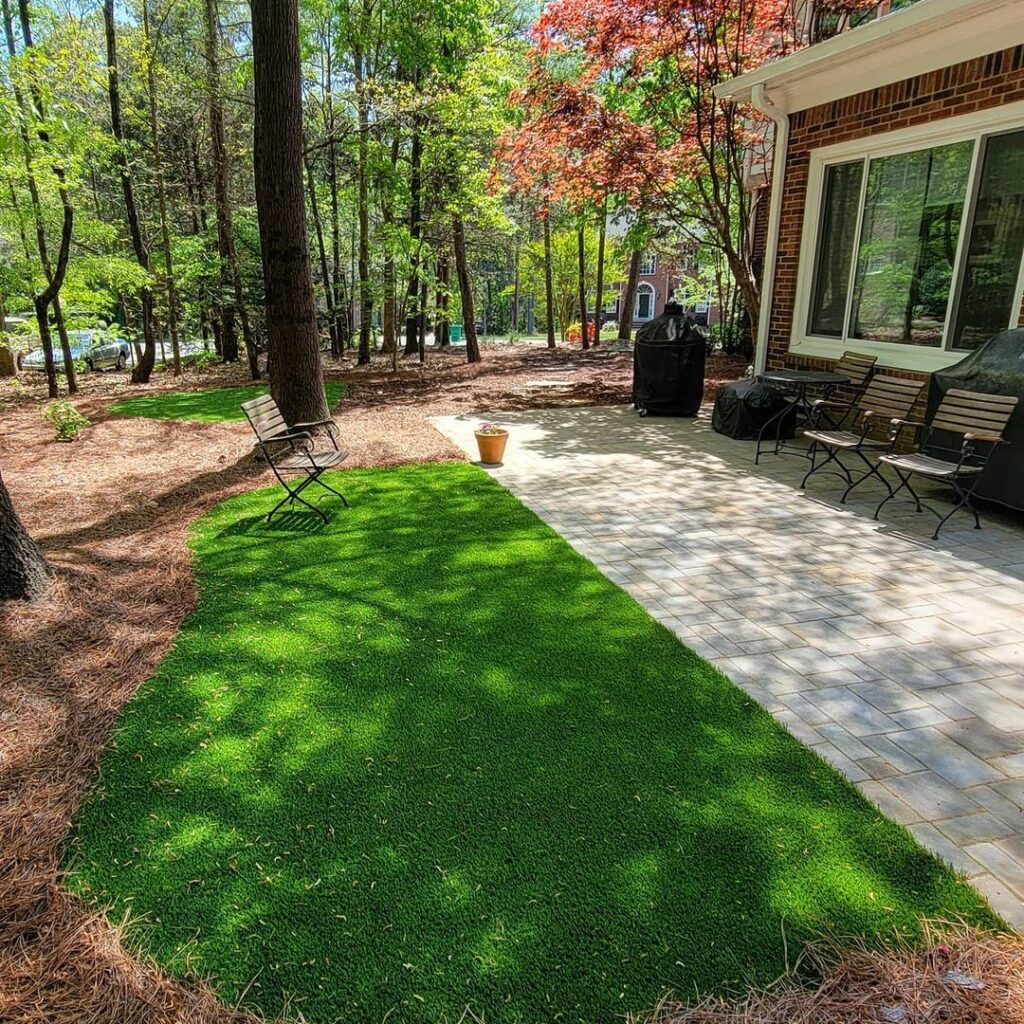 Square or Rectangular Patio Layouts:
Provide more of a "room" feeling to your outdoor living space
Make planning furniture and walking space layout easier (when well proportioned)
Can be less expensive to build due to lower material & labor costs on simple layouts
Do not have to be "bland" – Color and pattern options are available
Integrate well with structures and outdoor kitchen areas
Can have more than one level and/or pattern to change up the feel of a space
Landscape beds can be made "curvy" to soften the edges of the area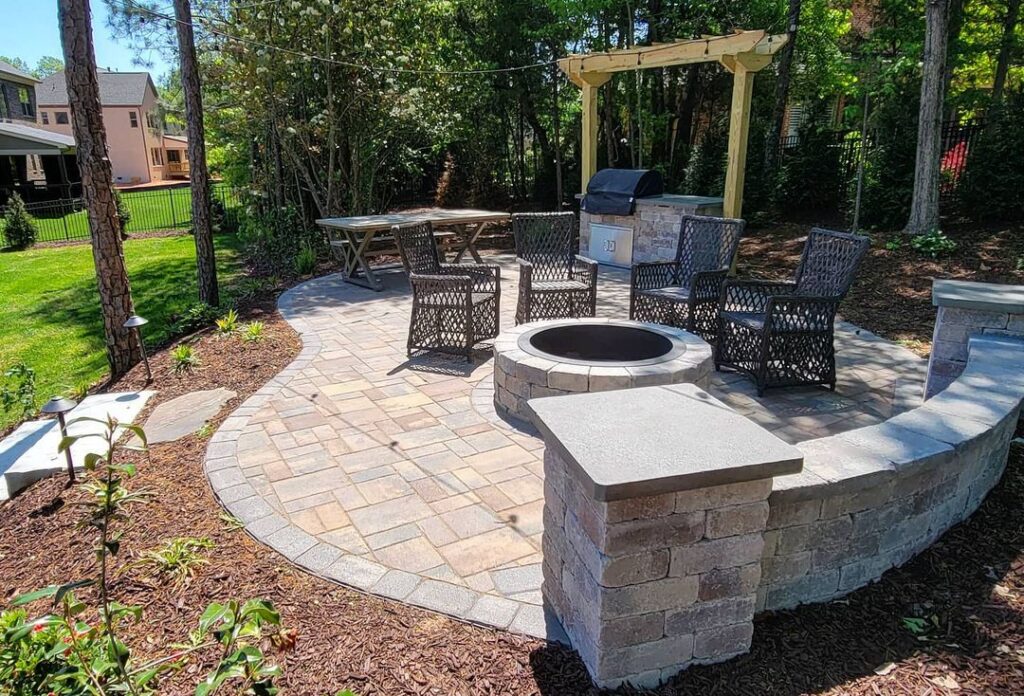 Curved or Circular Patio Layouts:
Create a sense of excitement in the garden
Work nicely with round fire pits so people can gather around the fire
Can be costlier to build due to higher material & labor costs
Color and pattern options are available for these too!
Can look more artistic
Work well with circular furniture styles
Can have lots of wasted space if not planned properly. A square foot cut is a square foot lost!
You can combine both curved and rectangular designs
Some of the more popular patio styles include a mix of circular or curved layouts along with square or rectangular ones. Be on the lookout for a chance to see some of these mixed layout patio designs. You can also combine the circular look inside a square or rectangular patio. A very popular design element is the Circle Kit. This looks like a large medallion placed in your patio, and can make a stunning focal point accent to the pavers.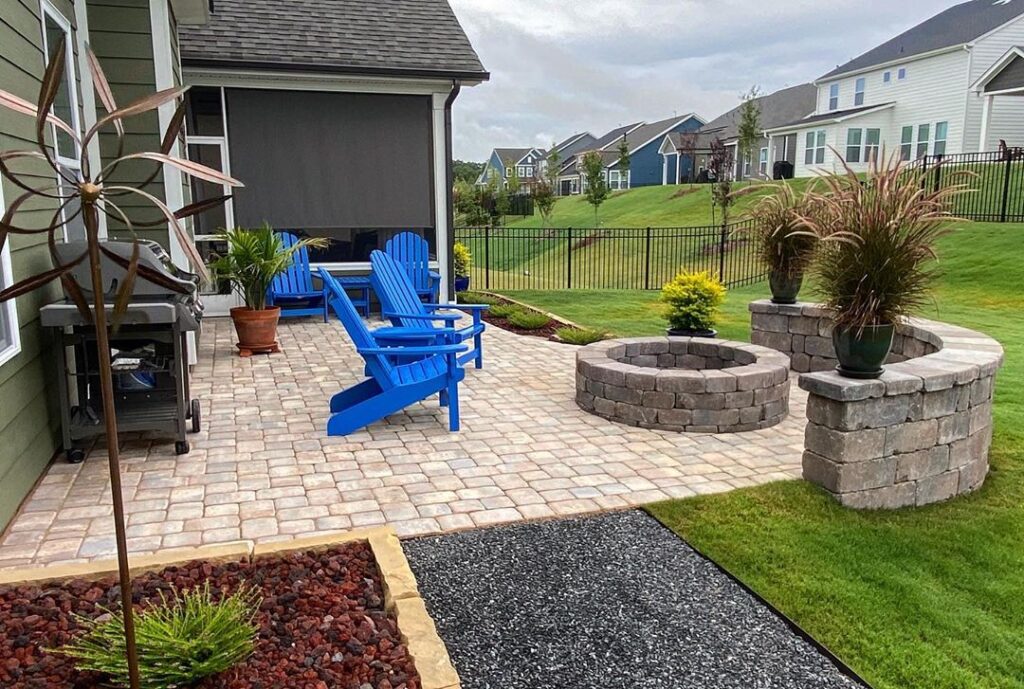 Outdoor Furniture and Your Patio Design
For an existing patio or deck, you have to choose furniture that fits your available space. However, if you are considering extending a deck or patio…or building new, then your choice of furniture may help you determine the size and shape of the new space.
Many people want an outdoor dining table, but others will plan a patio like a living room with seating and end tables. How you want to use this space will determine the best selection of furniture. If you like chairs and sofas, you will need different space than if you want to have a round table.
If there is specific furniture you want to use, then make sure you get the measurements. Always add 3 feet to the dimensions of any furniture piece that will need to be walked around. For example, an adirondack chair that measures 4′ x 5′ needs 7′ x 8′ space on a patio so people can walk around it comfortably. Something like an end table that will sit right next to another piece of furniture will not need this extra space on one side, but don't forget to account for some walk space on the other side.
Just for guidance, a typical 42 inch round patio table with 4 standard chairs needs a minimum space of 10′ x 10′ to allow for sitting space around the table with some limited walking room. That is 100 square feet of space, which is similar to a small bedroom or home office space. If you increase the size of the patio or deck by 3 more feet in each direction, you will provide a much more open feel around the dining table, but doing so will also increase the size of your patio significantly to 169 square feet.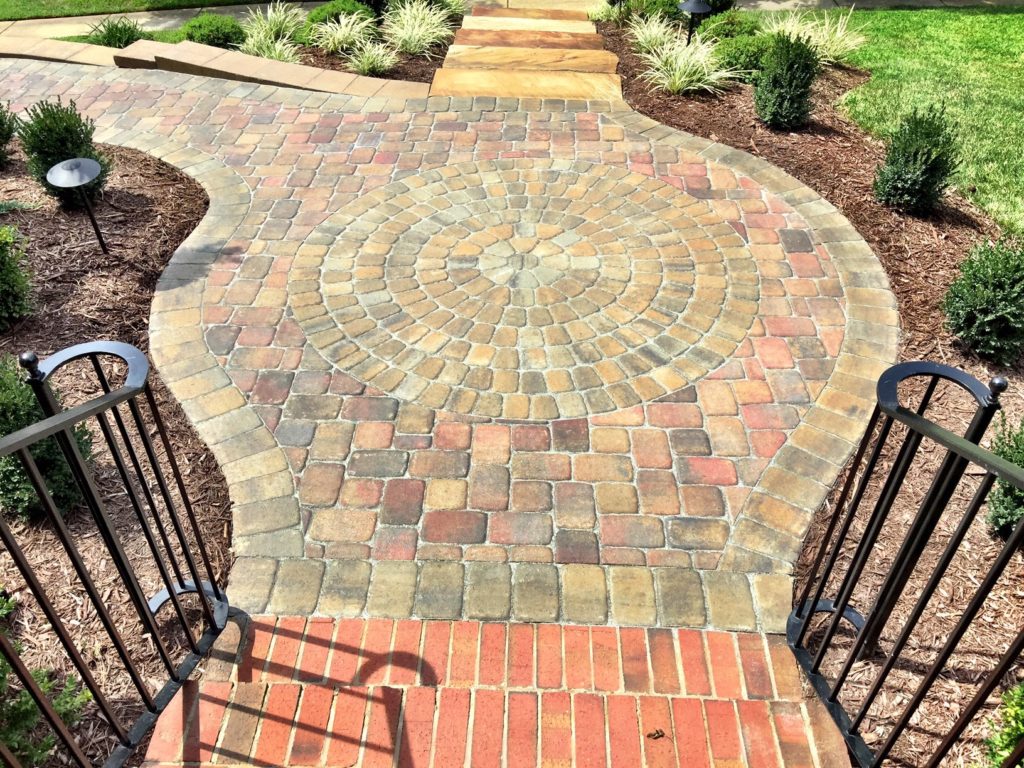 A few bonus patio design tips
Many patio paver blocks are either square or rectangular in shape, but come in different sizes. Lots of interest can be added to your space if you mix two or three varying patterns and/or colors.
Paver colors should contrast with or complement the colors of your house. Using pavers that are too similar in color can make the patio look bland. You can also try using a different colored border around (or through) the main patio surface. This can provide a "picture frame" effect – an elegant touch!
You can decorate patio areas to look different, depending on the type of use you plan for them. For an outdoor living room, you might want to add a water feature or a piece of artwork that adds interest to the space, just like you'd find inside.
If you want that European cafe feel, you can add white string lights to your patio. Or if you are going for a camper feel, maybe some colored lights.
There are many ways to create a functional and great looking patio area. It takes some imagination and often the help of a landscape designer to get everything to look right.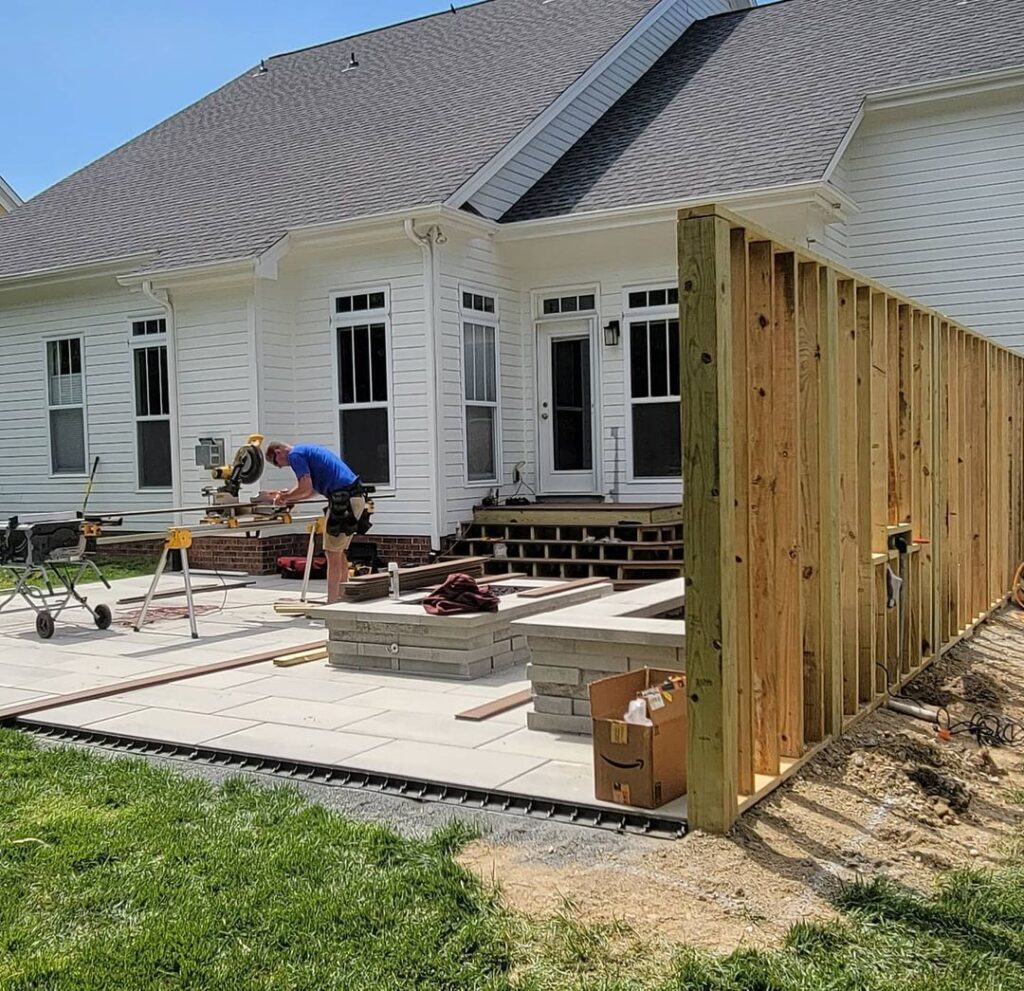 More Outdoor Living Design Information is On the Way
The intention for this page is to make it a great starting point for everything we write about outdoor living design. As we put together additional resources and type out some of the knowledge we have in our heads, we'll share it with you here as well.
Looking to get started on your project? Contact us today!