Outdoor fireplaces are an impressive way to bring a fire feature to your outdoor living space. Indoors or out, fireplaces can set the mood and serve as a focal point for the living area. That is probably why fire features consistently rank as among the most in-demand features for backyard living spaces.
Why Build an Outdoor Fireplace?
What is an outdoor fireplace used for? Any number of things. The most common reasons people like to have an outdoor fireplace is that it provides a natural focal point, sets a certain mood and adds some warmth chilly evenings. But there are many other reasons you might want to go with a fireplace over a fire pit or fire table.
One of the key questions you might ask is should I build an outdoor fireplace or a fire pit? While we won't directly compare fireplaces and fire pits in this article, we will answer some of the most common questions about outdoor fireplaces.
How to Build an Outdoor Fireplace
There are a number of options if you've decided on an outdoor fireplace. How you construct one depends on your budget, the space available, local zoning laws and more.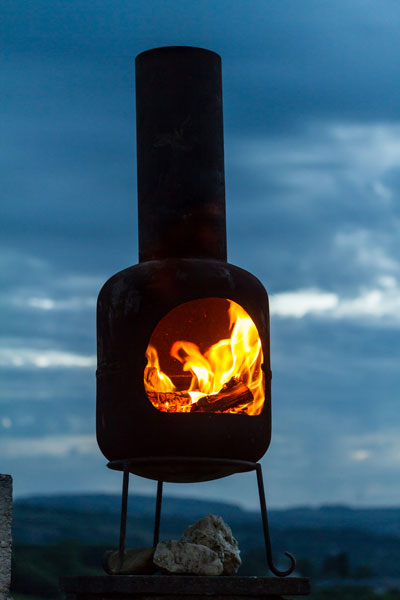 Buy a Portable Chiminea
If you want to build a fireplace that can go on an existing deck or be portable, then your options are pretty limited. You'll need to find a chiminea or similar wood burning portable fireplace. Similar to a portable fire pit, these are inexpensive options that might be just what you are looking for. Chimineas are available in a variety of shapes. The classic ones you might think of are clay on a steel stand, but you can also buy a variety of metal ones. Chimineas are generally the least expensive way to add a fireplace-like element to your backyard living area. Clay ones can be found for under $100, with metal versions ranging up to around $600.
Of course, if you are going to put anything with fire on a wood or composite deck, you'll need to make sure you protect the deck surface from heat and embers for safety reasons. In some places, due to fire codes, this may not even be an option.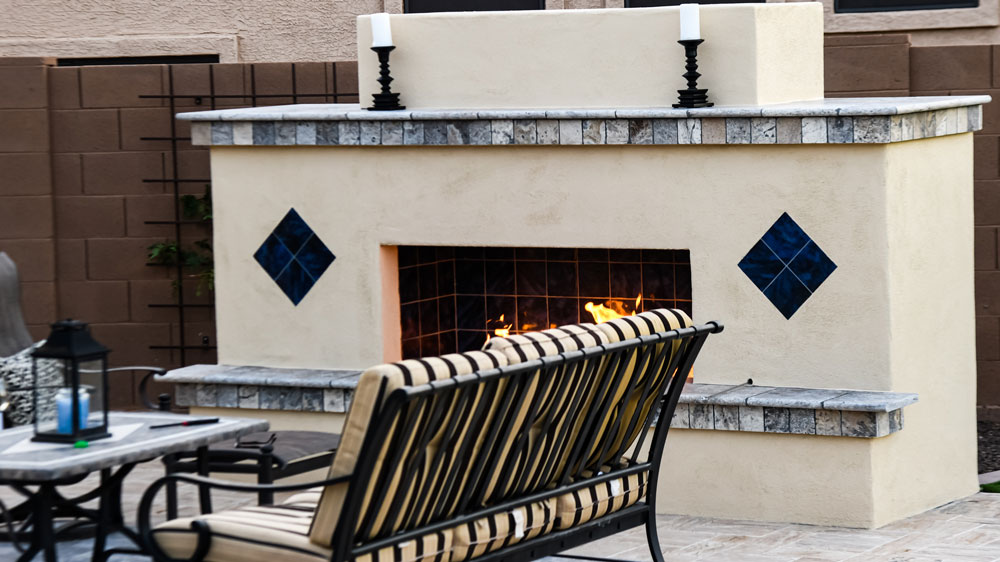 Buy a Pre-made Fireplace
Pre-made fireplaces for your backyard didn't used to be nearly as easy to find as they are today. However, this is now a legitimate option. Buying a pre-made version will limit your size and style options, but it will give you a quick solution and one that might be right for your budget.
Most wood burning pre-made options we've seen cost between $700 and $1,500. They are generally metal with a stack stone or other decorative exterior finish. If you want a propane fueled fireplace, there are some nicer looking models, but they will also cost between $3,000 and $4,000.
Buy a Kit and Build it Yourself
Not quite as simple as pre-made versions, but these are basic masonry fireplaces that come with the exact parts (masonry blocks, fire bricks, mortar, etc) and instructions on how to build them. If you are the type that enjoys putting together ready-to-assemble furniture, this might be an option for you. While some kits are designed with a nice finish, others are just the basic fireplace shape and need exterior decorative finishing done in addition to the kit.
Prices we've seen for kits range from $2,000 to $3,000 for smaller fireplaces and up to $10,000 for larger or gas versions. And you've still got to do all the work of putting the kit together yourself.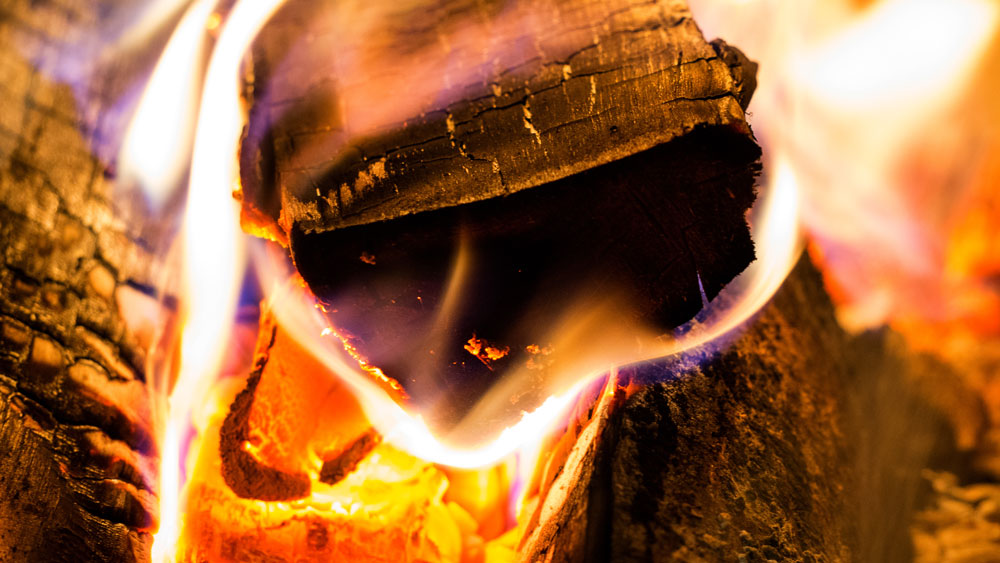 Buy a Plan and Build it Yourself
If you want a customizable fireplace design and finish, but don't want to start with a kit, you can generally save yourself some money by buying a plan and the right materials and building it yourself. Usually these will include the number and size of cinder blocks, fire bricks, etc that you need. Plans are pretty inexpensive. We've seen some online for between $25-$100 depending on different options and sizes.
Plans are a great way to get a more customized option if you want to add something like a wood storage area or a pizza oven (one of the most commonly asked about additions to an outdoor fireplace). A good set of plans will also give you an idea of the cost of materials involved before you buy the plan. For example, one plan we found with a pizza oven included, the suggested materials cost about $1,200.
If you decide to either buy a kit or buy a plan and build it yourself, you have to remember that all costs you are going to run into may not be included. For example, you may need a concrete pad or paver surface to put the fireplace on. If you want a natural gas fireplace, you'll need a professional to run the gas line extension to the fireplace.
You'll also need to consider regulations and safety. Some areas may have code restrictions on the size or placement of the fireplace. In general, an outdoor fireplace should be at least 10 feet from the house, property line or any other fence/structure. Code requirements in your area could require more distance and could also regulate chimney height.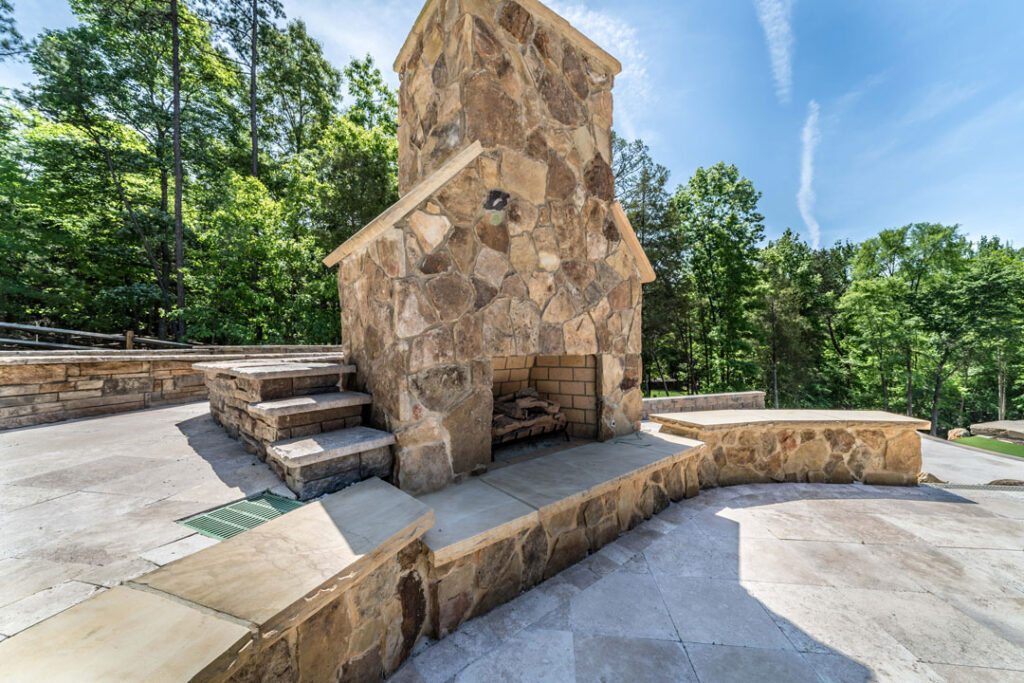 Have it Built by a Professional
When it comes to having a long-lasting, beautiful and safe outdoor fireplace, we think the best solution is to have it built by a professional landscape construction company. Not only will a professional be able to navigate the regulations involved, they have experience with designing and installing the outdoor fireplace so it matches your backyard livings space. Plus, that means you only have to make a few decisions, instead of spending hours trying to build the fireplace yourself.
Here at Benton Outdoor Living, we've built many outdoor fireplaces in all different shapes and sizes. We'll work with you to make sure the end product is great. If you don't live in the Charlotte area, then find a professional near you with the experience to give you what you want.
Outdoor Fireplace Features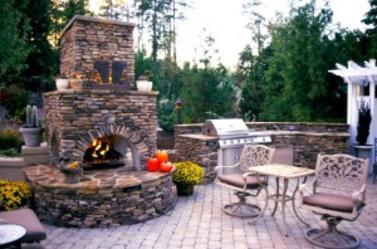 Gas vs Wood Burning
When considering an outdoor fireplace, there are several features that you need to think about. An important consideration is whether you want a low maintenance gas fireplace or a wood burning fireplace. In some parts of the country, wood burning is banned without a permit. For example, no outdoor fireplaces are allowed in Denver, Colorado. In other places, burning wood in outdoor fireplaces may be banned on heavy pollution days or fire danger days.
In the Charlotte area, burning wood in fire pits and outdoor fireplaces is generally allowed all year round as long as you follow safety rules. So, deciding between gas and wood burning is more of a preference. If you have a natural gas line to your house, you can attach a line to a fireplace and never have to worry about excessive smoke or wet wood. You can also build a propane fueled outdoor fireplace where a tank can be hidden if the fireplace is designed well. One thing to keep in mind is that a wood burning outdoor fireplace may be required to have a tall chimney if the house is nearby, while gas fireplaces don't have a required chimney height. This will make a huge difference in how the final fireplace looks in your yard.
With a TV Set
For some people, an outdoor living area isn't complete without the opportunity to watch TV. Whether this is to watch the big game or have an outdoor movie night, some people want to mount an outdoor tv above their fireplace just like they might indoors. This can be done, but it requires protecting the television from the weather. So, the TV will need to be under a roof or enclosed in a waterproof box when not in use. There are also a few brands of outdoor specific television sets that are designed to work better and take on the elements.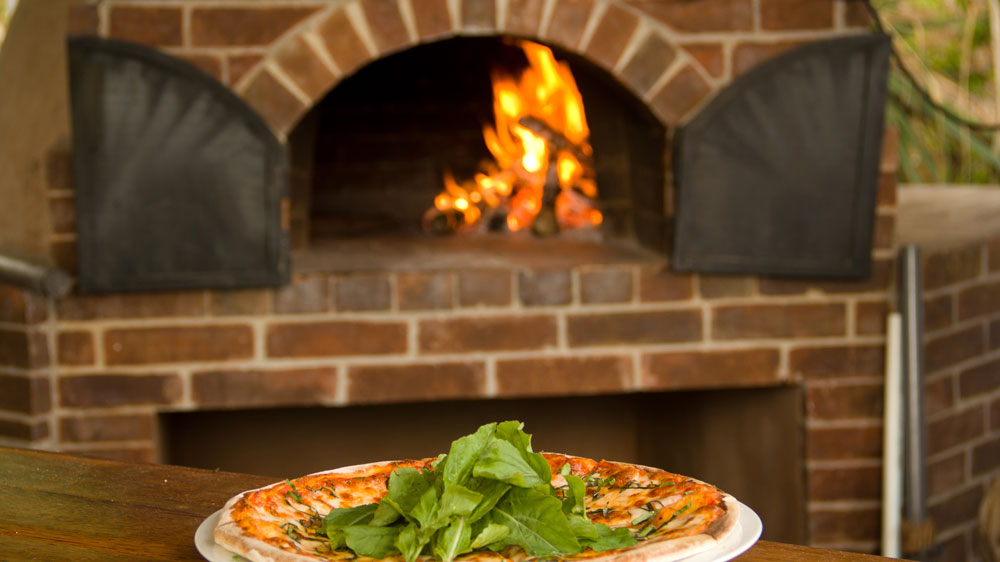 Including a Pizza Oven
One of the most asked about additions to an outdoor fireplace is a pizza oven. According to Google, the trend in searches for pizza ovens has been growing steadily since 2009. It really jumped up in April and May 2020 due to virus lockdowns that kept people from going out or ordering in from their favorite pizza places. Even after restaurant pizza become more available, interest in pizza ovens stayed high.
It isn't a surprise that when going through the process of installing an outdoor fireplace, many people think about a duel use as a pizza oven. Fortunately, companies that provide pre-formed outdoor fireplaces have kept up with the trends and offer a number of models for cooking that brick oven pizza right in your own backyard. A custom designed fireplace with pizza oven is not out of the question either.
But a pizza oven and fireplace combo isn't the right choice for everyone. It fits more as part of an outdoor kitchen than the outdoor living area concept that many people prefer. In that case, you might want to just buy one of the many stand alone or grill-top pizza oven that are now available and use them when you want to cook your own pizza. That way you can keep your fireplace looking like a fireplace and worry only about it keeping you warm on those chilly fall or spring evenings.